As the first US wind farm connects to the grid, Natural Power will be attending AWEA's Offshore WINDPOWER conference from 25th to 26th October in the Crown Plaza Hotel Providence-Warwick, Warwick, Rhode Island.
Nancy McLean, Principal Consultant at Natural Power, will be presenting 'Lessons learnt in delivering EIA for UK offshore wind: applications for the North American market' as part of the session 'Practical Approaches to Project Design, Environmental Assessment and Permitting: Creating Value, Reducing Risk' on 26th October between 10.45hrs and 12.00hrs.

Natural Power will also be exhibiting at the event, located at stand 12.
The AWEA Offshore WINDPOWER program has cultivated a dedicated and thriving global community of top developers and experts, making it the largest and most successful gathering of offshore wind energy professionals in the United States.
The programme includes a variety of sessions, from a technology spotlight and developers' round table, to a special session providing an update on the National Offshore Wind Strategy, and an overview of what should be expected of the US offshore wind supply chain over the next decade. The event closes with a boat tour to Block Island Wind Farm, the first commercial wind farm in the US.
To find out more, and to book tickets, please visit http://www.awea.org/events/event.aspx?eventid=43770&navItemNumber=8265
Featured Product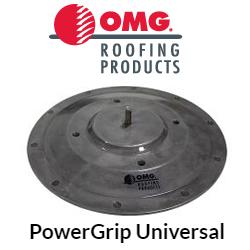 PowerGrip Plus Roof Mount System, a watertight structural attachment system used to secure ballasted solar racks and other equipment to roofs covered with thermoplastic (TPO and PVC) membranes. PowerGrip Plus is designed with wind performance in mind and offers ultimate tensile strength of 2,000 lbf. and ultimate shear strength of 1,075 lbf. Properly installed PowerGrip Plus units reduce rack movement and remaining watertight. PowerGrip Plus units are easy to install, saving both time and labor when compared to alternative options. A wide membrane skirt promotes easy welding in place, and the 15/8 diameter and 1/2 inch tall mount provides an optimal perch for securing brackets or struts. The exposed 1 inch tall and 3/8 inch diameter bolt and mounting stand are made from corrosion-resistant stainless steel and aluminum alloy for superior long-term performance.