Leading renewable energy and infrastructure consultancy, Natural Power, has been awarded the turbine servicing and operations contract for the 60-turbine Crystal Rig 2 wind farm which is located in the Lammermuir Hills, in the Scottish Borders.
Owned and developed by Fred. Olsen Renewables Ltd. the onshore wind farm is currently the second largest in the UK. As a result of two extensions, the entire site comprises 85 turbines with an installed capacity of 250 MW. Natural Power is already responsible for the management and servicing on Crystal Rig 1.

Paul Wilson, Head of Servicing at Natural Power, said: "This new contract marks a milestone in the development of our turbine servicing business. It is a key part of our approach to 'total asset management, which is continually developing, and also underpins our credentials as an independent service provider.
"At Crystal Rig, we are looking forward to a productive, long-term relationship with our client, whilst drawing in support from our colleagues in site management , Natural Powers ControlCentre and our technical analysts. In doing so, we aim to work proactively to ensure the efficiency and longevity of wind farm, whilst driving down operational costs by working efficiently to prevent costly repairs and schedule work during planned downtimes and low wind periods in order to reduce losses."
Natural Powers growing 21-strong servicing team sits within the over-arching Operations and Asset Management department. Through experience and training, the team has developed an in-depth knowledge of a wide range of wind farms, turbine types, including the Siemens 2.3 variable speed turbine, and fault scenarios. With dedicated on-site personnel, they can provide a range of services, from routine maintenance and repairs through to fault response and reliability serving. They will also be providing a procurement service for the provision of spare parts.
Natural Power currently provides operational services to over 2.1GW of onshore wind throughout the UK - which currently equates to approximately 26% of the UKs onshore capacity.
To find out more about Natural Powers approach to total asset management and more specifically turbine servicing, please visit our website here https://www.naturalpower.com/our-services/total-asset-management/ or contact paulw@naturalpower.com
Featured Product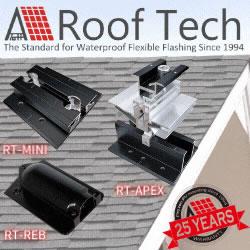 These ongoing webinars cover Roof Tech's background, product design (RT MINI and APEX), code and best practices. You will learn about a proven system that reduces installation time while keeping the integrity of the roofing system. This training will earn you one NABCEP Continuing Education Credit. The webinars are offered every Tuesday from 11 AM PDT to Noon during the months of April and May, 2020.