Project will heat NHs environmental protection and public health agencies building
CONCORD, NH - October 31, 2016: New Hampshire state officials celebrated National Bioenergy Day by holding an open house to recognize the completion of a new wood biomass boiler that will heat a major state building in Concord.

The New Hampshire Department of Environmental Services (NHDES) and the Department of Health and Human Services facility on Hazen Drive in Concord will be heated this winter with sustainably sourced local wood biomass chips instead of natural gas.
The project was completed through an innovative financing mechanism in partnership with ConEdison Solutions, a national energy services company. It is part of a comprehensive $12.7 million energy efficiency and renewable energy upgrade for facilities in the Meldrim Thomson State Office Park East.
"We are here today to recognize the role that wood biomass energy can play in protecting NHs environment, reducing energy costs, and creating opportunities for economic growth," said Thomas Burack, Commissioner of the NHDES. "This project was borne out of development of the State Climate Action Plan. It will reduce net carbon emissions while retaining dollars in the state economy through avoided energy costs and in-state energy resource development."
The heat plan features a 2.5 mega-watt Messersmith wood chip boiler with a state-of-the-art electrostatic precipitator to control air emissions. Wood chips will be sourced from sustainable forestry operations in the greater Concord area, supporting local forest landowners and loggers. The NHDES/Health and Human Services Building at 29 Hazen Drive will experience a 33% drop in total energy consumption and a greater than 80% drop in fossil fuel usage. This exceptional outcome will be achieved by combining a tremendous gain in efficiency in the building, mainly occurring in the lab section, with the biomass boiler.
Other components of the overall energy project include a 57 kW solar photovoltaic system on the roof of the Department of Motor Vehicles, non-ducted exhaust hoods in state laboratories, and modifications to HVAC systems and their controls. State staff and ConEdison Solutions worked together to produce an innovative and comprehensive fossil fuel reduction project.
The project is expected to reduce energy consumption on the campus by approximately $950,000 annually. The reduced energy use and switch to locally sourced fuels will also insulate taxpayers against energy price volatility.
"The State of New Hampshire is a national leader in the promotion of renewable energy," said Michael Gibson, Vice President of Energy Services for ConEdison Solutions, the national energy services company that was competitively selected to be the States energy services partner. "The State was tremendously cooperative throughout this process. This project was particularly creative, comprehensive, and innovative, and was implemented through the alternative financing method of performance contracting, where the costs are paid from savings the project produces. ConEdison Solutions was proud to work with the State as its partner on this important effort."
Brad Simpkins, State Forester and Director of the NH Division of Forests and Lands said, "This project, and others like it, support and encourage responsible management of our working forests and woodlands by providing a market for low-grade wood."
Rick DeMark, coordinator of the NH Wood Energy Council, a public-private partnership to promote modern wood heating of commercial and institutional buildings said, "This project is helping support NHs forest-based economy while also saving money for our taxpayers. Modern wood heating of commercial and institutional buildings has become a mainstream energy option in NH, with nearly 150 similar installations in the last 10 years alone."
National Bioenergy Day is held each year in October to highlight the important contribution that renewable and carbon beneficial biomass energy from forest and agricultural resources makes in meeting Americas energy needs in heating, electricity and transportation fuels.
---
The New Hampshire Department of Administrative Services provides and manages safe, accessible, and efficient facilities for state government and the public.
The mission of the New Hampshire Department of Environmental Services is to help sustain a high quality of life for all citizens by protecting and restoring the environment and public health in New Hampshire.
A part of the New Hampshire Department of Resources and Economic Development, the Division of Forests and Lands protects and promotes the values provided by trees, forests and natural communities. For more information about the New Hampshire Division of Forests and Lands visit www.nhdfl.org or call 602-271-2214.
ConEdison Solutions is a leading energy services company that provides renewable energy, sustainability services, cost-effective energy efficiency solutions, demand response, and energy performance contracting. The company serves commercial, industrial, residential and government customers, as well as universities, public school districts, and hospitals nationwide. Offering innovative products, financial stability, and a commitment to customer service, the company is headquartered in Valhalla, New York, with offices in Burlington, Massachusetts; Cherry Hill, New Jersey; Falls Church, Virginia; Tampa, Florida; Overland Park, Kansas, Nashville, Tennessee; and Bloomington, Minnesota. The firms dedicated team of energy professionals delivers a broad range of energy solutions. ConEdison Solutions offers programs and services designed to help customers achieve their individual energy objectives and is accredited as an Energy Services Provider (ESP) by the National Association of Energy Service Companies (NAESCO).
ConEdison Solutions is a subsidiary and registered trademark of Consolidated Edison, Inc. (NYSE: ED). More information can be obtained by calling 1-888-210-8899 or visiting the ConEdison Solutions website at www.conedsolutions.com. You can also visit the Consolidated Edison, Inc. website at http://investor.conedison.com for information on all of the Consolidated Edison companies.
The NH Wood Energy Council is a public-private education and technical assistance initiative to promote advanced wood heating, and supported by the USDA Forest Service. It is coordinated by North Country Resource Conservation & Development.
Featured Product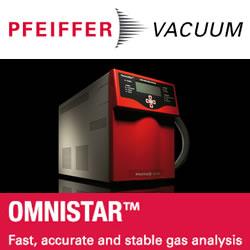 The Pfeiffer Vacuum OmniStar benchtop analysis system offers you a compact footprint, powerful software and Ethernet connectivity. It's the optimum solution for many real-time gas analysis applications. With the OmniStar, Pfeiffer Vacuum offers you a complete solution for gas analysis, in chemical processes, semiconductor industry, metallurgy, fermentation, catalysis, laser technology and environmental analysis. The turnkey OmniStar gas analysis system consists of heated, temperature-regulated gas inlet system, Quadrupole mass spectrometer, a dry diaphragm vacuum pump and HiPace turbopump. Unlike competing methods such as FTIR, OmniStar is suitable for qualitative and quantitative analysis of most gases.