Adoption of distributed energy storage systems, flow batteries, and hybrid battery systems is also growing, report finds
BOULDER, Colo.--(BUSINESS WIRE)--A new report from Navigant Research examines global energy storage projects, providing a database of more than 1,200 projects encompassing more than 43,000 individual systems, with an analysis of regional technology choices and market shares.

Market activity in the energy storage sector continues to grow, with new project announcements occurring routinely and industry players exploring innovative business cases to make energy storage systems (ESSs) profitable. Nearly two gigawatts (GW) of new ESSs have been announced in 2016 so far, and several projects have reached commercial operation this quarter alone. Click to tweet: According to a new report from @NavigantRSRCH, lithium ion (Li-ion) batteries remain the leading energy storage technology for new projects worldwide (excluding pumped hydro storage), accounting for 83 percent of newly announced ESS capacity through 3Q 2016.
"While Li-ion leads in terms of technology, distributed energy storage systems (DESSs) are becoming increasingly popular in several regions, accounting for around 14 percent of new system capacity announced in 2016—the highest percentage of any year on record," says Ian McClenny, research associate with Navigant Research. "DESSs are generally much smaller than utility-scale systems and are expected to thrive as they become more cost-effective and productized, leading to more streamlined installation and opening new markets."
Projects using flow batteries and hybrid battery systems are also becoming more popular, according to the report. These systems are advantageous in that they can provide multiple services to the grid based on dynamic conditions and specific requirements.
The report, Energy Storage Tracker 3Q16, provides a comprehensive resource of global energy storage projects. The Tracker includes a database of 1,201 projects (encompassing roughly 43,083 individual systems) and tracks the country, region, market segment, capacity, status, technology vendor, systems integrator, applications, funding, investment, and key milestones of each project. In addition, the report includes an analysis of the technology choice within each major region for energy storage, analysis of the leading regions for energy storage capacity and projects, and market share analysis for technology vendors for deployed projects and projects in the pipeline. An Executive Summary of the report is available for free download on the Navigant Research website.
About Navigant Research
Navigant Research, the dedicated research arm of Navigant, provides market research and benchmarking services for rapidly changing and often highly regulated industries. In the energy sector, Navigant Research focuses on in-depth analysis and reporting about global clean technology markets. The teams research methodology combines supply-side industry analysis, end-user primary research and demand assessment, and deep examination of technology trends to provide a comprehensive view of the Energy Technologies, Utility Transformations, Transportation Efficiencies, and Buildings Innovations sectors. Additional information about Navigant Research can be found at www.navigantresearch.com.
About Navigant
Navigant Consulting, Inc. is a specialized, global professional services firm that helps clients take control of their future. Navigants professionals apply deep industry knowledge, substantive technical expertise, and an enterprising approach to help clients build, manage and/or protect their business interests. With a focus on markets and clients facing transformational change and significant regulatory or legal pressures, the Firm primarily serves clients in the healthcare, energy and financial services industries. Across a range of advisory, consulting, outsourcing, and technology/analytics services, Navigants practitioners bring sharp insight that pinpoints opportunities and delivers powerful results. More information about Navigant can be found at navigant.com.
Featured Product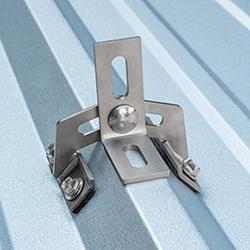 SolarRoofHook's Low Profile QuickBOLT with Microflashing™ is the industry's affordable, UL Certified Asphalt Shingle mounting system. The Microflashing™ is compressed by the collar on the bolt to create a water-tight seal. With an installation time of less than one minute, the Low Profile QuickBOLT allows installers to complete more jobs.