Power Factors, LLC, an industry-leading software provider for monitoring, managing and optimizing renewable energy assets, announced today that it has acquired Ekhosoft Inc., a leader in intelligent operational management software solutions, from Bay4 Energy Services, a leading solar and energy storage asset management company.
Power Factors, LLC Acquires Ekhosoft - Leading Software Developer with 15GW Global Clean Energy Portfolio

LARKSPUR, Calif. & BROSSARD, Quebec, NOV. 17, 2016 - Power Factors, LLC, an industry-leading software provider for monitoring, managing and optimizing renewable energy assets, announced today that it has acquired Ekhosoft Inc., a leader in intelligent operational management software solutions, from Bay4 Energy Services, a leading solar and energy storage asset management company.
"For the past 15 years, Ekhosoft has built powerful event driven software tools for some of the top energy and industrial customers in the world. Their team of 31 experienced developers and technology specialists has over 450 combined years of experience building custom tools for owners and operators; their development team is second to none. Combining Ekhosofts extensive technology knowledge and expertise with Power Factors deep subject matter expertise is very exciting," said Steve Scales, EVP and co-founder, Power Factors.
Scales added, "Power Factors mission is to give our customers the tools they need to drive their power plants - drive results, drive their service providers, drive bottom line economics. This acquisition gives us a deep development bench which will continue to innovate and push forward what we believe is already the most fully integrated and robust set of tools in the industry. This acquisition is significant."
Power Factors acquisition of Ekhosoft is the perfect union between two of the most trusted and dominant software platforms in the clean energy software marketplace—Ekhosoft, with over 15 GW of clean energy power plants, and Power Factors, with over 4.5 GW. Together, over 20 GW of solar and wind projects will run on these software platforms going into 2017.
"Were thrilled to be joining forces with Power Factors and very excited to build powerful, reliable and scalable tools for the renewable energy sector," said Ekhosoft CEO and founder Patrick Ramsey. "The traditional power industry knows that actionable data is integral to performance, reliability and profitability. Together, were focused on pushing this paradigm into the renewable realm."
As part of the agreement, Bay4 retains a long-term license to utilize the combined technology platform to deliver its industry-leading asset management, O&M, monitoring, O&M management, engineering and research services.
"Bay4 is very excited about the sale of Ekhosoft to Power Factors," added Clay Biddinger, chairman and CEO of Bay4 Energy. "Combining these two powerful technology platforms enhances Bay4s capability to better serve our customers through augmented event management and comprehensive asset performance assessments. We look forward to maintaining a strong and successful long-term relationship with both Ekhosoft and Power Factors."  
"As the renewable energy industry matures, it becomes increasingly critical that monitoring and operating tools be as sophisticated and exacting as possible," noted Steve Hanawalt, EVP and co-founder of Power Factors. The product we are building together with Ekhosoft solves real problems based on "been there done that" experience. Were very excited to have Patrick and the Ekhosoft team joining us. Their event management, data curation, and user interface development experience fits perfectly into our overall mission, to give our customer the tools they need to drive performance and bottom line profits."
About Power Factors, LLC
Power Factors delivers bankable, scalable data platforms for clean energy, providing infrastructure and services to optimize the physical and financial performance of clean energy assets. The companys proprietary platform is built upon pillars of the electric power industry, time-tested over decades to ensure reliability and scalability. Its energy and data experts work with the largest and most successful clean energy companies in the world to help customers get the most out of their investments.
About Ekhosoft
Ekhosofts software monitors and alarms for high volume data sets, like those from large wind and solar facilities; provides performance analysis and improvement; delivers flexible user experience. The company collects real-time data from control systems and combine them with data from your business systems and the web, to deliver key insights into your operations and make performance initiatives possible. Successfully installed in hundreds of organization sites across North and South America, Europe and Scandinavia, Ekhosofts solutions drill down into operations to uncover patterns and set actions in order to improve and automate business processes. Unique in the industry, Ekhosofts all-in-one application solutions are configurable and can be adapted to an organizations needs and requirements. The companys installation process is the fastest in the industry and is accomplished with no software development. As the leading provider of operations management and operational intelligence software solutions, we have extensive industry experience working with operational and performance-management solutions. With personnel in Canada, Europe and across the United States, and with partners in the Asia Pacific region and China, we are uniquely positioned to service your needs on a global scale.
About Bay4 Energy Services, LLC
Bay4 Energy offers a comprehensive portfolio of energy services focused on keeping owners and operators in touch with their solar assets. Bay4s SOC2-compliant suite of asset management software integrates everything from contract and cash management to key performance indicators and predictive analyses. Bay4 delivers real-time insights into how systems are operating, including downtime analysis and tracking of work orders and repairs. Bay4 Technical Services ensures that customer systems are optimized with expert O&M management, troubleshooting, and diagnostic capabilities to keep facilities producing at their peak. Bay4s experienced team provides asset performance management solutions that maximize customers holdings.
Contact: media@powerfactorscorp.com
Featured Product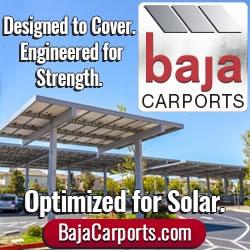 Baja Carports offers an extensive solar support system product line customized to customers' site specifications by in-house engineers, meeting their parking lot coverage, plus optimal PV production needs. Baja's Full Cantilever Tee is often paired with its Semi and Full Cantilever carports to meet live/loads up to 60psf and wind speeds to 160mph. All Baja products are pre-fabricated, bolted connections, pre-galvanized structural steel for fast on-site installation and project aesthetic requirements."