--Using newly developed H2One™ solution for logistics facilities to promote hydrogen supply system business for fuel cell vehicles--
TOKYO--(BUSINESS WIRE)--Toshiba Corporation (TOKYO:6502) today broke ground on a new Hydrogen Application Center at its Fuchu Complex in western Tokyo. Scheduled to start operation in April 2017, the center will be built around a newly designed H2One™ hydrogen power system that will use renewable energy to produce hydrogen and supply it to fuel-cell powered forklifts operating in Fuchu Complex. Fuel cells can be quickly refueled and are available 24 hours a day, a clear advantage over batteries.

Mr. Hiroyuki Ota, Project Manager of Toshiba's Energy Systems and Solutions Company noted: "The Hydrogen Application Center is a stepping stone to building a new business. We will utilize experience and know-how gained from the Hydrogen Application Center to develop and deliver a H2One™ for use in factories, warehouses, logistics facilities and airports. We want to make Fuchu Complex an environmental model factory for the realization of a carbon-free society where hydrogen energy is widely used."
The system is controlled by Toshiba's groundbreaking hydrogen energy management system, H2EMS™, which includes a new hydrogen demand prediction function that forecasts supply requirements for fuel cell vehicles, allowing space saving optimization of the area devoted to hydrogen storage.
Toshiba Energy Systems & Solutions Company continues to contribute to the global expansion of hydrogen energy solutions, and the transition to a low-carbon hydrogen economy.
About Toshiba
Toshiba Corporation, a Fortune Global 500 company, channels world-class capabilities in advanced electronic and electrical product and systems into three focus business fields: Energy that sustains everyday life, that is cleaner and safer; Infrastructure that sustains quality of life; and Storage that sustains the advanced information society. Guided by the principles of The Basic Commitment of the Toshiba Group, "Committed to People, Committed to the Future", Toshiba promotes global operations and is contributing to the realization of a world where generations to come can live better lives.
Founded in Tokyo in 1875, today's Toshiba is at the heart of a global network of 551 consolidated companies employing 188,000 people worldwide, with annual sales surpassing US$50 billion (as of March 31, 2016).
Featured Product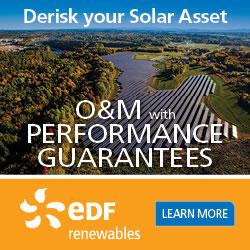 EDF Renewables offers the same innovative solutions that maximize the performance of our own 5.2 GW of installed projects. Because we're not an equipment manufacturer, our recommendations are transparent and data-driven. We cover the entire project lifecycle: from pre-commissioning support, through warranty and post warranty operation, to late stage and decommissioning.