ViZn Energy CEO Ron Van Dell will be speaking at Greentech Media's U.S. Energy Storage Summit that will take place December 7-8 in San Francisco, California.
AUSTIN, Texas - November 29, 2016 - ViZn Energy Systems Inc. (ViZn), a leading provider of zinc and iron chemistry-based flow battery energy storage systems for utilities and microgrids, announced today that company CEO Ron Van Dell will be speaking at Greentech Medias U.S. Energy Storage Summit that will take place December 7-8 in San Francisco, California. The session on energy storage standardization will be held from 2:45 PM - 3:15 PM PST on day two of the conference (Dec. 8), will be moderated by Ravi Manghani, Director of Energy Storage at GTM Research, and will include other leading storage industry executives.

"The GTM Energy Storage Summit is one of the most important conferences of the year for the energy storage industry, so Im excited to have the opportunity to represent ViZn Energy next month," said Mr. Van Dell. "Were partnering with leading global suppliers of power conversion and systems controls to eliminate system integration risk and accelerate the customers time to revenue."
Van Dell will bring his more than 30 years of business experience - including more than a decade at the helm of companies in the cleantech and energy industries - to the panel discussion called Standardization: Making Storage Plug-and-Play. Van Dell will also be speaking on Wednesday, December 14, at Power-Gen International in Orlando, Florida, from 1:30 PM - 3:30PM EST. Van Dell currently serves on the Industrial Advisory Board for the College of Engineering at Michigan Technological University, served as Chairman of the Clean Energy Council for the Austin Chamber of Commerce in 2012, was appointed by Austin City Council to its Local Solar Advisory Committee in 2012, serves on the Oversight Committee for the M-TRAC commercialization program of the Michigan EDC and as an Advisory Fellow, NSF Center for Next Gen PV, University of Texas.
ViZn Energys flow battery systems are capable of performing both high-power and long-duration services which enables utilities, C&I customers, and other end users to stack applications and incorporate multiple value streams. ViZns systems have an expected lifespan of 20 years with negligible degradation regardless of the duty cycle.
About ViZn Energy Systems, Inc.
ViZn Energy Systems, Inc. is comprised of a visionary team of scientists, engineers and business leaders who are passionate about creating and commercializing a revolutionary energy storage solution for the commercial & industrial, microgrid and utility-scale markets. Founded in 2009 and based on eight previous years of research, ViZn has commercialized highly scalable energy storage systems, ranging from tens of kilowatts to mega-watt storage. The ViZn solution is safe, reliable, cost effective, and scalable to meet the needs of todays ever-changing energy landscape. For more information, visit: www.ViZnEnergy.com
###
Press Contact:
Wendy Prabhu
Mercom Communications, a division of Mercom Capital Group
1-512-215-4452
ViZn@mercomcapital.com
Featured Product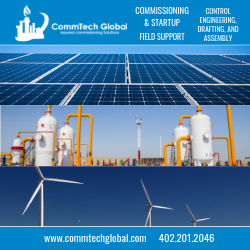 CommTech Global Solutions, LLC, provides professional and reliable commissioning services to customers in all realms of the energy industry. We blend our skills in engineering and technology with innovative business models, offering a complete range of services to assist you for a successful and in compliance operational startup. Consolidation of all our service domains gives our clients a comprehensive set of expertise and far-reaching experience on each project.