Former Secretary of Energy Steven Chu Among High-Profile Appointees
NEW YORK--(BUSINESS WIRE)--Eos Energy Storage ("Eos") - pioneer of the safe, ultra-low cost Znyth® battery - today announced a number of appointments to the companys Advisory Board. The advisors will lend strategic guidance as Eos transitions to become a customer-facing product company and will help to expand commercialization of Eos innovative energy storage technology globally and in markets beyond utilities -including commercial, industrial, and military applications.

Newly appointed Advisory Board members include:
- Steven Chu, former U.S. Secretary of Energy, American physicist and Nobel Laureate, and former Director of the Lawrence Berkley National Laboratory
- Jerry Yang, Founding Partner of AME Cloud Ventures, co-founder of Yahoo! Inc.
- Lawrence H. Summers, former U.S. Secretary of the Treasury, former Director of the U.S. National Economic Council, and currently Charles W. Eliot University Professor and President Emeritus of Harvard University
- General Wesley Clark, retired U.S. Army General and Commander of NATO
- James Kelly, former Senior Vice President of Transmission & Distribution at Southern California Edison, having responsibility for operation and maintenance of over 12,000 miles of transmission, 900 substations, and 100,000 miles of distribution lines spread across a 50,000-square-mile service area
With the support of this expert Advisory Board, Eos is now delivering safe, robust and cost-effective energy storage solutions to major utilities around the world and is quickly establishing itself as the global energy storage cost leader. The companys core product -the Eos Aurora® 1000│4000 - is a 1MW|4 MWh DC battery system utilizing Eos aqueous, zinc hybrid cathode (Znyth) technology. The Eos Aurora is currently being sold at a volume price of $160 per usable kWh for the full DC system with performance guarantees providing up to 20 years of continuous operation with limited maintenance. Eos solution allows utilities to optimize capital allocation, increase utilization of grid infrastructure, and provide more reliable service to customers at lower cost.
"The performance specifications of the Eos Aurora reflect the type of stationary, utility-scale battery that will be increasingly needed for grid applications such as peak load and demand-response shifting. Utilities seek extremely low cost per kWh, minimal capacity degradation with regular deep cycling," says Steven Chu. "In 2013, the Department of Energy published their near-term and long-term grid energy storage goals for an AC battery energy storage system capital costs to be under $250/kWh and under $150/kWh respectively. They also set as goals the levelized costs, without subsidy, of 20¢/kWh/cycle and 10¢/kWh/cycle. While I dont know the added system costs of DC vs. AC, the Eos cost and lifetime specifications appear to be approaching the DOE long term cost and performance targets."
To evaluate installed cost and product performance, Eos has partnered with a number of major utilities including Con Edison of New York, Engie, and Pacific Gas & Electric for initial deployments. Last year, Eos was selected to supply a 10MW/40 MWh project with Pacific Gas & Electric to provide locational capacity and grid reliability.
"The opportunities for a safe, low-cost, long-lasting battery on the electric grid are endless," says James Kelly. "With an Eos battery at half the cost of lithium ion with better performance and none of the safety, toxicity, or material extraction concerns, we finally have an energy storage solution that supports the utilities core mission of supplying safe, reliable, and affordable electricity - while also providing the flexibility utilities need to adapt to an increasingly efficient, renewable and distributed energy future."
Since announcing product availability in 2015, Eos has accumulated over 35 GWh of qualified project leads across 6 continents, representing approximately $5.6B in potential revenue. Eos recently raised $23M through a Series D equity financing earlier this year to support product launch and to transition battery production to a multi-billion dollar contract manufacturing partner capable of meeting multi-hundred MW per year demand. The Advisory Board will support Jim Hughes, former First Solar CEO, recently appointed as Eos Chairman of the Board of Directors, in facilitating the companys transition to volume manufacturing and global product deployment.
About Eos Energy Storage
Eos mission is to deliver energy storage solutions that enable safe, reliable, and affordable electricity for utilities and their customers. Eos produces a long-life, inherently safe, and easy-to-install DC battery system designed for grid-connected as well as commercial and industrial markets. The Eos Aurora® is the lowest cost and highest performance energy storage system designed to optimize grid infrastructure, enhance reliability, and to reduce costs associated with peak demand. Eos is located in Edison, New Jersey, and New York; For more information, please visit www.eosenergystorage.com.
Contacts
Media:
Eos Energy Storage
Philippe Bouchard, 212-628-7191
pbouchard@eosenergystorage.com
www.eosenergystorage.com
or
Eco Branding for Eos Energy Storage
Jake Rozmaryn, 866-945-9445 ext. 701
eos@ecobrandit.com
Featured Product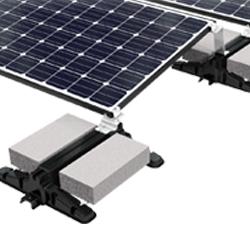 Preformed Line Products introduces the POWER MAX Ballasted Roof Mounting System. The POWER MAX solar mounting system is engineered to maximize energy output on commercial flat roofs. Developed with the professional installer in mind, this system offers adjustable inter-row spacing in the field of up to 11 inches. It features 50% fewer components and a simplified design resulting in faster assembly rates and labor savings on every project. Available in a flush mount, 5˚ or 10˚ tilt or higher density dual tilt design, the POWER MAX base arrives stacked on pallets providing easier transport to the roof. Engineered as a fully ballasted, non-penetrating system, it accepts standard concrete blocks and is qualified by wind tunnel testing.