Six new members join the GRC Board of Directors
The Geothermal Resources Council (GRC) is governed by a Board of Directors, elected by the general membership to 2-year terms. To provide continuity, half of the Board is elected every year. All GRC members are eligible for election to the Board of Directors.

The global GRC membership took part in the ballot in November, and the result was that six new members of the Board were elected: Bridget Ayling, Tim Conant, Warren T. Dewhurst, Dan Hoyer, Jon Trujillo, and Jeff Witter.
They join eight other members who have been re-elected to the Board of Directors: Richard Campbell, Louis Capuano III, Louis Capuano Jr., James Lovekin, Leland (Roy) Mink, Joe Moore, Shigeto Yamada, and Kate Young.
Photos of the new Board of Directors can be seen on the GRC Website at www.geothermal.org/BOD.html
##
About the Geothermal Resources Council:
With the experience and dedication of its diverse, international membership bolstering a 44-year track record, the Geothermal Resources Council has built a solid reputation as one of the world's preeminent geothermal associations. The GRC serves as a focal point for continuing professional development for its members through its outreach, information transfer and education services.
For more information, please visit www.geothermal.org.
Get your daily geothermal news at Global Geothermal News [geothermalresourcescouncil.blogspot.com]. Become a fan on Facebook [www.facebook.com/GeothermalResourcesCouncil]. Follow GRC on Twitter [@GRC2001 and #GRCAM2017]. Check out GRC's YouTube Channel [www.youtube.com/GeothermalCouncil]. See geothermal photos on GRC's Flicker page. [www.flickr.com/photos/geothermalresourcescouncil]
###
Featured Product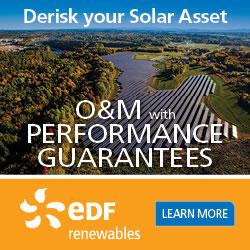 EDF Renewables offers the same innovative solutions that maximize the performance of our own 5.2 GW of installed projects. Because we're not an equipment manufacturer, our recommendations are transparent and data-driven. We cover the entire project lifecycle: from pre-commissioning support, through warranty and post warranty operation, to late stage and decommissioning.