Ballard Power Systems (NASDAQ: BLDP; TSX:BLD) today has provided an update regarding significant progress being made toward the establishment and commissioning of an FCvelocity®-9SSL fuel cell stack production operation in the City of Yunfu, in Guangdong Province, China.
Ballard has received $19.0M in related payments

VANCOUVER, CANADA and YUNFU, CHINA - Ballard Power Systems (NASDAQ: BLDP; TSX: BLD) today has provided an update regarding significant progress being made toward the establishment and commissioning of an FCvelocity®-9SSL fuel cell stack production operation in the City of Yunfu, in Guangdong Province, China. As of closing on this transaction in October 2016, Ballard had received payments totaling $10.9 million and since then has received further payments of $8.1 million in relation to a contract milestone, for a total of $19.0 million.
The transaction to establish a production operation was announced on July 18, 2016 and has a contemplated minimum value to Ballard of $170 million over 5-years. The transaction includes these key elements:
- Ballard will receive approximately $20.0 million in Technology Solutions revenue for technology transfer and other services in relation to the establishment of a production line in Yunfu for the manufacture and assembly of FCvelocity®-9SSL fuel cell stacks, with most of this revenue expected to be recognized in Q4 2016 through 2017;
- At the October 25, 2016 closing of the transaction, the Guangdong Synergy Ballard Hydrogen Power Co., Ltd. ("JVCo") joint venture was created to undertake stack manufacturing operations; JVCo is owned 90% by Guangdong Nation Synergy Hydrogen Power Technology Co. Ltd. and 10% by Ballard; and
- On commissioning of the operation by JVCo, expected in late-2017, Ballard will be the exclusive supplier of membrane electrode assemblies (MEAs) for each fuel cell stack manufactured by JVCo, with minimum annual MEA volume commitments on a "take or pay" basis totaling in excess of $150 million over the initial 5-year term from 2017 to 2021.
Significant progress has already been made to achieve the targeted commissioning of the JVCo manufacturing operation in late-2017. All long lead-time capital equipment items for the JVCo production line have now been specified and ordered, the layout and key infrastructure requirements of the manufacturing facility have been advanced and facility construction is underway. All equipment is expected to be installed in the facility during the first half of 2017, with process qualification work scheduled for the second half of 2017. It is expected that commissioning will be completed and production will begin in late-2017.
"Progress is on-track to ready the joint venture fuel cell stack production operation," said David Whyte, Ballard Vice President - Operations. "Our business model in China offers near-, mid- and long-term cash flow streams at various points in the value chain. We have already received $19 million from this stack JV transaction and our $150 million long-term MEA supply contract provides forward visibility on baseload MEA production volumes. In addition to minimum MEA volumes, we also expect Ballard to realize value at the stack level from our participation in JVCo. Finally, at the module level we expect to receive technology transfer fees as well as recurring royalty payments from modules assembled by localization partners, while also driving demand for stacks from the JVCo production line for use in those modules."
Mr. Whyte continued, "With Ballard having exclusive rights to sell stacks produced by JVCo outside of China, we expect to have access to additional production capacity for future stack sales by Ballard around the globe, which mitigates the need for future capital spend on in-house capacity. In summary, our approach to localizing production is risk adjusted, capital light and IP protected."
About Ballard Power Systems
Ballard Power Systems (NASDAQ: BLDP; TSX: BLD) provides clean energy products that reduce customer costs and risks, and helps customers solve difficult technical and business challenges in their fuel cell programs. To learn more about Ballard, please visit www.ballard.com.
This release contains forward-looking statements concerning expected revenues and other benefits of the transactions, market interest in our products, anticipated market demand for fuel cell products and available government subsidies. These forward-looking statements reflect Ballard's current expectations as contemplated under section 27A of the Securities Act of 1933, as amended, and Section 21E of the Securities Exchange Act of 1934, as amended. Any such forward-looking statements are based on Ballard's assumptions relating to its financial forecasts and expectations regarding its product development efforts, manufacturing capacity, and market demand.
These statements involve risks and uncertainties that may cause Ballard's actual results to be materially different, including general economic and regulatory changes, detrimental reliance on third parties, successfully achieving our business plans and achieving and sustaining profitability. For a detailed discussion of these and other risk factors that could affect Ballard's future performance, please refer to Ballard's most recent Annual Information Form. Readers should not place undue reliance on Ballard's forward-looking statements and Ballard assumes no obligation to update or release any revisions to these forward looking statements, other than as required under applicable legislation.
This press release does not constitute an offer to sell or the solicitation of an offer to buy securities. The Ballard Common Shares have not been registered under the United States Securities Act of 1933, as amended, or the securities laws of any other jurisdiction and may not be offered or sold in the United States absent registration or an applicable exemption from registration requirements.
Further Information: Guy McAree +1.604.412.7919, media@ballard.com or investors@ballard.com
Featured Product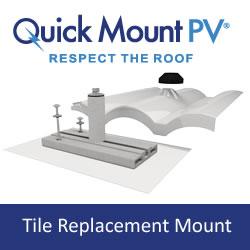 The Tile Replacement Mount provides a fast and easy way to install solar on tile roofs while protecting against water intrusion. Simply remove the tile and replace it with the Tile Replacement Mount. Works with all standard curved and flat tile roofs, and all standard rail-based racking systems. Flashed at both the deck and top levels, the mount is fully engineered to meet code requirements and industry best practices. The Tile Replacement Mount features Quick Mount PV's patented Elevated Water Seal technology for optimal waterproofing. Get a free sample and see for yourself!