Sunworks to offer commercial and industrial customers zero-down financing for solar plus storage installations
SACRAMENTO, Calif. - January 4, 2017 - Sharp Electronics Corporations Energy Systems and Services Group (Sharp) announces today that its SmartStorage® system was selected as the primary energy storage system by Sunworks, a leading California and Nevada-based solar installer. The SmartStorage® system is an intelligent, lithium-ion based solution that uses predictive learning to reduce peak electricity consumption during demand spikes. Sunworks will implement SmartStorage® products into upcoming commercial building projects, thereby allowing customers to benefit from peak energy and peak demand savings simultaneously.

"Sunworks is highly recognized in the industry for quality solar installations. By joining forces to offer their industry-leading solar solutions plus our innovative SmartStorage® system, customers can optimize their energy usage," said Carl Mansfield, General Manager and Founder of Sharps Energy Systems and Services Group. "Increasingly, Sharps customers are seeing the benefits of storage paired with solar, resulting in savings from expensive peak demand charges. Were happy to offer a hybrid solar plus storage solution that enables commercial property owners to shift more of their capital to operations instead of expensive utility bills."
Sunworks and Sharp expect an increase in the adoption of hybrid solar plus storage energy solutions, especially for projects that reside in areas facing peak demand rates in excess of $18/kW. With its California presence and direct access to Sharps zero-down financing program, Sunworks now plans to evaluate all of its commercial projects. For any site that demonstrates a strong economic benefit from a solar plus storage solution, Sunworks will install the SmartStorage® system.
"We are seeing the market move toward energy storage," said Jim Nelson, CEO of Sunworks. "This is an opportunity to grow our business and provide our customers with a reliable, high performing, and high quality storage solution that can deliver savings. We found that Sharp offered the best solution within the energy storage market and we plan to deploy the SmartStorage® system to all of our commercial projects where the economics make sense."
The SmartStorage® system features Sharps sophisticated, predictive analytics application that manages the release of energy from batteries at the precise time its needed to avoid demand charges. As an option for all SmartStorage® system installations, Sharp offers a 10-Year Asset Management Service Agreement coupled with a 10-Year Performance Guarantee that includes routine and unscheduled maintenance. If guaranteed peak demand reductions are not met, Sharp will compensate for the deficit in promised peak demand reductions.
About Sharp Electronics Corporations Energy Systems and Services Group
Sharp Electronics Corporation (SEC) is the U.S. division of Japan's Sharp Corporation, a worldwide developer and manufacturer of one-of-a-kind premium technology products. SECs Energy Systems and Services Group (ESSG) focuses on developing innovative energy management products for the U.S. market. ESSG introduced the SmartStorage® behind-the-meter energy storage system, an energy storage solution designed to reduce peak demand usage for commercial and industrial buildings. Sharps industry-first 10-year performance guarantee is included with their 10-year operations and maintenance service agreement, an option available for all SmartStorage® system installations. Sharps integrated SmartStorage® solar hybrid solution is available with no money down financing options. For more information, visit: https://www.sharpsmartstorage.com/.
About Sunworks
Founded in 1983, Sunworks, Inc. has emerged as a premier provider of solar power solutions for both consumers and businesses. Were committed to quality construction practices that always exceed industry standards and uphold our ideals of ethics and safety. Today, Sunworks continues to grow its presence, expanding nationally with regional and local offices. We strive to consistently deliver high quality, performance oriented solutions for the agriculture, commercial, government, public works, residential, and utility industries. Our dedication to excellence is reflected in our 25-year warranty, a benchmark that we standby in order to support our customers above and beyond their expectations.
Featured Product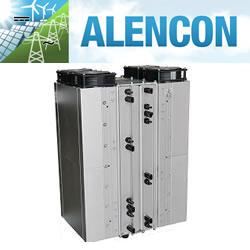 Alencon Systems is the premier manufacturer of high power, high voltage DC:DC optimizers for alternative energy applications including solar, battery energy storage, Microgrids, Fuel Cells and Electric Vehicle charging. Alencon's DC:DC converter offerings include the SPOT, BOSS and CUBE series DC:DC converters. The SPOT is a modular, uni-directional DC:DC solution ideal for solar applications. The BOSS is a modular, bi-directional unit for use with battery energy storage. The CUBE is a monolithic DC:DC converter which is available in both uni-directional and bi-directional modalities. Pictured above, is the Alencon SPOT.