Enzymes Increase Biogas Production from Organic Waste Material, Offering New Revenue Stream and Increased Renewable Electricity
LEIDEN, The Netherlands, Jan. 26, 2017 - DuPont Industrial Biosciences has been awarded a grant from the European Commission to demonstrate high-efficiency enzyme production to increase biogas yields as part of the DEMETER project, funded from the Bio Based Industries Joint Undertaking under the European Unions Horizon 2020 Research and Innovation program. Enzyme technology has been proven to improve biogas yields and process robustness, ultimately increasing customers revenue and profitability while increasing offerings in renewable energy.

The DEMETER project is expected to demonstrate a yield increase and cost reduction in the production process for biogas enzymes, which can improve the economics of biogas production in Europe. DEMETER includes an entire value chain of biogas experts including: DuPont (enzymes), Miavit (biogas ingredients distributor), BioBase Europe (pilot plant), OWS (anaerobic digester expertise), DBFZ (biogas research centre), Ciaotech (economic and environmental evaluation), and Biomoer (biogas farm). The project is expected to be completed over the next three years.
"DuPont is proud to be a partner in project DEMETER and to apply our decades of experience in the global industrial enzyme business to supporting the continued growth of the biogas sector in the European Union and around the world," said Conrad Burke, global marketing director. "Ultimately, this project will demonstrate to biomethane producers the power of enzymes to improve biogas yields and process robustness, ultimately increasing their revenue and profitability."
The grant will be used to improve and scale-up the enzyme-producing fermentation process to reach a cost reduction of at least 15 percent and to demonstrate the efficiency of the enzymes in biogas field trials in Europe. Methane biogas is primarily used to generate electricity or is compressed and inserted into the pipeline gas grid.
DuPont has recently developed a new enzyme product, derived from Myceliophthora thermophila C1, that in recent field trials has shown a promising 10 percent cost-reduction in the production of biogas from organic waste. In November 2016, DuPont Industrial Biosciences and MIAVIT GmbH announced a supply agreement where DuPont will supply its FIBREZYME® G4 enzyme biotechnology to MIAVIT for inclusion in MiaMethan® ProCut, a new biogas ingredient for the agricultural sector sold by MIAVIT. DuPont Industrial Biosciences also recently partnered with the American Biogas Council and the United States Department of Energy to host Using Biotechnology to Drive Progress in the Biogas Industry, a webinar discussing opportunities and challenges facing biogas producers in today's global market.
DuPont Industrial Biosciences works with customers across a wide range of industries to make products and industrial processes more efficient and sustainable. Through a unique combination of agriculture, biotechnology, chemistry and material science capabilities, we advance market-driven, biobased solutions to meet the needs of a growing population, while protecting our environment for future generations. For updates about how DuPont Industrial Biosciences is helping customers deliver cost-effective products with superior performance and sustainability, follow @DuPontBiobased on Twitter or visit our website at http://biosciences.dupont.com/.
DuPont (NYSE: DD) has been bringing world-class science and engineering to the global marketplace in the form of innovative products, materials, and services since 1802. The company believes that by collaborating with customers, governments, NGOs, and thought leaders we can help find solutions to such global challenges as providing enough healthy food for people everywhere, decreasing dependence on fossil fuels, and protecting life and the environment. For additional information about DuPont and its commitment to inclusive innovation, please visit http://www.dupont.com.
Featured Product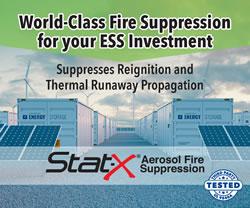 Stat-X® condensed aerosol fire suppression is a solution for energy storage systems (ESS) and battery energy storage systems (BESS) applications. Our Stat-X condensed aerosol fire extinguishing product was tested for efficacy in suppressing li-ion battery fires. It was found that the product successfully extinguished single and double cell battery fires. This testing was conducted in parallel with a large battery fire testing program on behalf of a large energy storage company.