Turnkey product breaks sub $400/kWh installed cost barrier to enable utility energy storage markets
San Diego, CA DistribuTECH 2017 [Booth #1247] - January 30, 2017 - Eos Energy Storage ("Eos") and Northern Power Systems Corp. (TSX: NPS) today announced a strategic partnership to develop and offer integrated energy storage systems (ESS) for utilities and commercial/industrial customers. The initiative combines the safe, ultra-low cost Eos Aurora® DC battery system with Northern Powers advanced energy storage inverter, controls, and engineering expertise. The suite of integrated solutions provides 4 hours of usable energy using modular 250kW battery building blocks that are scalable for multi-MW applications.

"Batteries represent a significant portion of the performance and cost of an energy storage system," said Chris McKay, Director of Sales at Northern Power Systems. "By using the Eos Aurora, we can deliver a fully integrated ESS solution at an all-in, installed price of less than $400/kWh—depending on project size and location but always with the quality, functionality and reliability that is characteristic of Northern Power. We believe this offering will allow more customers than ever to access the benefits of an on-site energy storage system."
Northern Power and Eos are jointly developing and supplying industry-leading, turnkey ESS solutions offering seamless integration of batteries, power conversion, and controls along with installation and maintenance services as needed. The joint product represents a cost-effective option for utilities who want to provide relief in grid constrained areas, lower capacity payments, defer substation upgrades, and/or better integrate renewable energy. The integrated product is also appropriate for large commercial and industrial facilities looking to lower demand and peak energy charges, or provide resiliency against grid outages.
"Northern Powers patented converter architecture and advanced controls technology are an excellent match for Eos battery offering. The teams engineering capabilities will ensure successful system integration and performance for major utilities around the world," said Eos Vice President of Business Development, Philippe Bouchard. "We are gratified to work on these projects with Northern and their clients, and Eos looks forward to deepening this relationship through the collaborative Eos AegisTM integration program."
The revolutionary Eos Aurora battery solution is powered by the companys aqueous, zinc hybrid cathode Znyth® technology and offers game-changing cost and performance for a critical segment of the energy storage market. With a volume price of $160/kWh for the DC system and an expected life of 5,000 full depth-of-discharge cycles, the Eos Aurora offers the best-fit solution for multi-hour energy storage applications.
Northern Powers FlexPhase™ power converter technology leverages a modular, compact, and efficient design that is easy to service. The platform allows for a wide range of DC voltages suitable for a variety of battery types. Northern Powers proprietary PowerRouter™ controls allow for seamless transitions between grid and islanded operation, as well as black start capability. The grid-friendly design improves power quality and system stability.
Northern Powers engineering design team is supporting integration of the Eos Aurora DC battery system with Northern Powers advanced power converters and control software, to deliver a superior performance solution and ease-of-installation in the field. Eos and Northern Power initiated the partnership by focusing on development and optimization in 2016 and plan to deliver fully-integrated products to major utilities in the second quarter of 2017.
Eos and Northern Power are attending the DistribuTECH conference together in San Diego, CA from January 31 through February 2. Additional information regarding the integrated battery energy solution will be available at Eos booth #1247.
About Eos Energy Storage
Eos mission is to deliver energy storage solutions that enable safe, reliable, and cost-leading electricity for utilities and their customers. Eos produces a long-life, inherently safe, and easy-to-install DC battery system designed for grid-connected applications, as well as commercial and industrial markets. The Eos Aurora® is the lowest cost and highest performance energy storage system designed to optimize grid infrastructure, enhance reliability, and to reduce costs associated with peak demand. Eos is located in Edison, NJ, and New York. For more information, please visit www.eosenergystorage.com.
About Northern Power Systems
Northern Power Systems designs, manufactures, and sells wind turbines and power technology products, and provides engineering development services and technology licenses for energy applications, into the global marketplace from its US headquarters and European offices.
- Northern Power Systems has over 40 years experience in technologies and products generating renewable energy.
- Northern Powers FlexPhase™ power converter platform uses patented architecture and advanced controls technology for advanced grid support and generation applications.
- Northern Power Systems provides turn-key solutions for microgrid and remote applications.
- Northern Power Systems offers comprehensive in‐house development services, including systems level engineering, advanced drivetrains, power electronics, PM machine design, and remote monitoring systems to the energy industry.
- Northern Power Systems currently manufactures the NPS™ 60 and NPS™ 100 turbines. With over 12 million run time hours across its global fleet, Northern Power wind turbines provide customers with clean, cost effective, reliable renewable energy.
- Patented next generation permanent magnet direct drive (PMDD) technology uses fewer moving parts, delivers higher energy capture, and provides increased reliability due to reduced maintenance and downtime.
To learn more about Northern Power Systems, please visit www.northernpower.com.
Notice regarding forward-looking statements:
This release includes forward-looking statements regarding Northern Power Systems and its business, which may include, but is not limited to, product and financial performance, regulatory developments, supplier performance, anticipated opportunity and trends for growth in our customer base and our overall business, our market opportunity, expansion into new markets, and execution of the companys growth strategy. Often, but not always, forward-looking statements can be identified by the use of words such as "plans", "is expected", "expects", "scheduled", "intends", "contemplates", "anticipates", "believes", "proposes" or variations (including negative variations) of such words and phrases, or state that certain actions, events or results "may", "could", "would", "might" or "will" be taken, occur or be achieved. Such statements are based on the current expectations of the management of Northern Power Systems. The forward-looking events and circumstances discussed in this release may not occur by certain specified dates or at all and could differ materially as a result of known and unknown risk factors and uncertainties affecting the company, including risks regarding the wind power industry; production, performance and acceptance of the companys products; our sales cycle; our ability to convert backlog into revenue; performance by the companys suppliers; our ability to maintain successful relationships with our partners and to enter into new partner relationships; our performance internationally; currency fluctuations; economic factors; competition; the equity markets generally; and the other risks detailed in Northern Power Systems risk factors discussed in filings with the U.S. Securities and Exchange Commission (the "SEC"), including but not limited to Northern Power Systems Annual Report on Form 10-K filed on July 25, 2016, as well as other documents that may be filed by Northern Power Systems from time to time with the SEC. Although Northern Power Systems has attempted to identify important factors that could cause actual actions, events or results to differ materially from those described in forward-looking statements, there may be other factors that cause actions, events or results to differ from those anticipated, estimated or intended. No forward-looking statement can be guaranteed. Except as required by applicable securities laws, forward-looking statements speak only as of the date on which they are made and Northern Power Systems undertakes no obligation to publicly update or revise any forward-looking statement, whether as a result of new information, future events, or otherwise.
Media Contact:
Molly Rafelson
mrafelson@ecobrandit.com
1.866.945.9445 ext. 707
Featured Product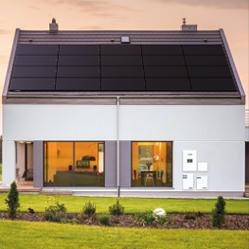 The Q.Home+ ESS HYB-G1 energy storage solution offers scalable storage capacity from 4.5 kWh up to 18.9 kWh and comes in a modular design for easy and fast installation. The system is offered in both DC-coupled and AC-coupled configurations and can connect up to 3 batteries in series using only one inverter and battery management system (BMS). The system includes an integrated backup power function for 100% of the rated inverter output to support critical loads in the event of power failure and offers remote monitoring using the QHOME+ web portal or QHOME+ ESS mobile app.