The most important international forum for the small wind industry will take place during the Intersolar Europe exhibition in Munich
Munich, February 2, 2017 - The World Wind Energy Association WWEA and Intersolar Europe are pleased to invite the small and medium wind stakeholders as well as the solar PV and energy storage industry to participate in the World Small Wind Conference WSWC2017, taking place in Munich/Germany on 1 and 2 June 2017, in parallel with the Intersolar Europe exhibition 2017 (31 May - 2 June, 2017).

The main theme of the conference is Small Wind & Solar Hybrid Systems - Key to a Self-sufficient Energy Future. The conference is aimed at jointly exploring the current status and future developments of the wind & solar hybrid technology as well as to present new innovative business models that could exploit the market of self-supply electricity. In addition, latest developments on small wind technology will be presented.
Stefan Gsänger, WWEA Secretary General, "Integrated hybrid solutions are an important market for the small wind industry. Small wind and solar power are natural partners. Hence we are very pleased that we can invite small wind and solar stakeholders to meet at one of the most important renewable energy events, Intersolar Europe, in order to discuss jointly latest technical developments and innovative business models."
"We are convinced that the global energy transition will be a success. 100 percent renewables is achievable, with photovoltaics and wind energy serving as central pillars for a future-ready energy grid and effective climate protection. Therefore we are excited to welcome the co-location of the World Small Wind Conference with Intersolar and ees Europe in Munich", states Dr. Florian Wessendorf, Managing Director Solar Promotion GmbH.
The Call for Papers is open until 15 March, 2017 and the online registration will be available from middle February, 2017.
More Information at: www.small-wind.org
Intersolar Europe 2017 will take place from May 31-June 2 at Messe München.
Further information on Intersolar Europe can be found at www.intersolar.de/en.
Partners of Intersolar Europe
Intersolar Europe is supported by the leading solar industry associations: the German Solar Association (BSW-Solar) as an exclusive partner, the German Solar Energy Society (DGS), the European Solar Thermal Industry Federation (ESTIF), the International Solar Energy Society (ISES), and the platform for photovoltaic production equipment within the German Engineering Association (VDMA-PV). With the support of SolarPower Europe.
About Intersolar
With events spanning four continents, Intersolar is the worlds leading exhibition series for the solar industry and its partners. It unites people and companies from around the world with the aim of increasing the share of solar power in our energy supply.
Intersolar Europe is the worlds leading exhibition for the solar industry and its partners. It takes place annually at the Messe München exhibition center in Munich, Germany and focuses on the areas of photovoltaics, energy storage and renewable heating, as well as on products and solutions for smart renewable energy. The accompanying Intersolar Europe Conference consolidates selected exhibition topics and showcases international markets, financing and pioneering technologies. Since being founded, Intersolar Europe has become the most important industry platform for manufacturers, suppliers, distributors, service providers and partners in the global solar industry.
With over 25 years of experience, Intersolar has the unique ability to bring together members of the solar industry from across the worlds most influential markets. Intersolar exhibitions and conferences are held in Munich, San Francisco, Mumbai, São Paulo and Dubai. These global events are complemented by the Intersolar Summits, which take place in emerging and growing solar markets worldwide.
In 2017, ees Europe, Europe's largest exhibition for batteries and energy storage systems, will take place in parallel to Intersolar Europe for the fourth time. Together with the accompanying ees Europe Conference, the exhibition covers the entire value chain of innovative battery and energy storage technologies.
For more information on Intersolar Europe, please visit: www.intersolar.de/en
Intersolar Europe is organized by Solar Promotion GmbH, Pforzheim, and Freiburg Wirtschaft Touristik und Messe GmbH & Co. KG (FWTM).
Featured Product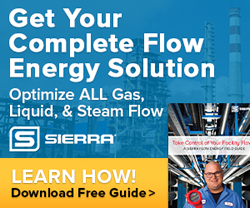 Download Flow Energy Guide - Written by Engineers For Engineers. Learn how to save on energy costs by optimizing your facility flows that impact costs like compressed air, natural gas, steam, and hot or chilled water.