• Significant 2017 expansion in China-based resources to support planned growth
For Immediate Release

VANCOUVER, CANADA and GUANGZHOU, CHINA - Ballard Power Systems (NASDAQ: BLDP; TSX: BLDP) today announced that it has opened its first corporate office headquartered in Guangzhou, the capital of Guangdong Province, China. This office will serve as the Companys initial operations center in China, supporting management, sales and business development, technical, after-sales and administrative support personnel. The Company also recently completed the registration of a wholly foreign-owned enterprise (WFOE) with the name of 广州市巴拉德动力系统有限公司 (Guangzhou Ballard Power Systems Co., Ltd.).
"Our rapid and successful establishment of commercial relationships in China over the past year necessitates an in-country operations team," said Randy MacEwen, Ballard President and CEO. "Last year we built out our sales and service teams and we expect to expand our China team to almost 20 people by year-end 2017 to support planned customer growth. This staff will fulfill a number of key roles, including business development, account management, applications engineering, after-sales support, quality assurance and supply chain management."
The Company also announced the promotion of Alfred Wong to Managing Director, Asia Pacific. Mr. Wong has relocated to China, working out of the Guangzhou office, to support Ballard activities and he stated, "We continue to build our China platform to meet current and anticipated customer needs. Our account management team and our ability to provide responsive and high-quality engineering and after-sales support are competitive differentiators. As we continue to expand partnerships and our partner geographic footprint, we will review options for additional presence in China."
Mr. WU Yi, Director General of the Guangzhou Municipal Board for International Investment said, "We are very pleased with the decision by Ballard, the worlds premier zero-emission fuel cell company, to establish a presence in Guangdong Province and choose Guangzhou as its headquarters in China. Ballards business interests with our local companies located in our Province will provide a significant benefit in delivering our clean energy goals as well as the economic objectives of Chinas current 5-Year Plan."
About Ballard Power Systems
Ballard Power Systems (NASDAQ: BLDP; TSX: BLDP) provides clean energy products that reduce customer costs and risks, and helps customers solve difficult technical and business challenges in their fuel cell programs. To learn more about Ballard, please visit www.ballard.com.
This release contains forward-looking statements concerning planned product deployments, provision of services, market adoption and demand for our products and available subsidies. These forward-looking statements reflect Ballards current expectations as contemplated under section 27A of the Securities Act of 1933, as amended, and Section 21E of the Securities Exchange Act of 1934, as amended. Any such forward-looking statements are based on Ballards assumptions relating to its financial forecasts and expectations regarding its product development efforts, manufacturing capacity, and market demand.
These statements involve risks and uncertainties that may cause Ballards actual results to be materially different, including general economic and regulatory changes, detrimental reliance on third parties, successfully achieving our business plans and achieving and sustaining profitability. For a detailed discussion of these and other risk factors that could affect Ballards future performance, please refer to Ballards most recent Annual Information Form. Readers should not place undue reliance on Ballards forward-looking statements and Ballard assumes no obligation to update or release any revisions to these forward looking statements, other than as required under applicable legislation.
This press release does not constitute an offer to sell or the solicitation of an offer to buy securities. The Ballard Common Shares have not been registered under the United States Securities Act of 1933, as amended, or the securities laws of any other jurisdiction and may not be offered or sold in the United States absent registration or an applicable exemption from registration requirements.
Further Information: Guy McAree +1.604.412.7919, media@ballard.com or investors@ballard.com
Featured Product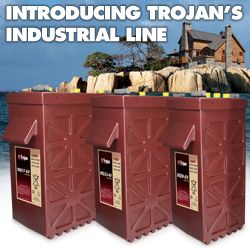 Trojan's deep-cycle batteries provide rugged durability, outstanding performance and long life for use in all types of solar energy installations. With over 90 years of experience, Trojan delivers the world's most reliable and trusted batteries in flooded, AGM, Gel, and Lithium types. These batteries enable solar equipment systems to operate at a peak level of performance in the harshest conditions or the most challenging of locations and are manufactured and tested to IEC standards.