Kagoshima Prefecture-based project is scheduled for installation in Q3 2017 as part of Japan's popular Excess Energy Purchasing Scheme and Feed-in Tariff
Tokyo, Japan, February 27, 2017 - Schneider Electric, the global specialist in energy management and automation, and Aquion Energy, the world's leading provider of saltwater batteries and energy storage solutions, have partnered with Japan's RE-ENERGY Co., Ltd., and EIWAT Solar Co. to supply Kyushu Electric, one of Japan's largest and most prestigious electric power companies, with power generated from an environmentally friendly, scalable, modular solar power and storage system in Kagoshima Prefecture.

The "EIWAT Storage I" project will feature Schneider Electric's Conext XW+ controller, a hybrid inverter that provides power conditioners for both solar power and storage capabilities in a single unit. The Conext XW+ is an adaptable single-phase and three-phase hybrid inverter with grid-tie functionality and dual AC power inputs. Power generated from the solar array will be stored in Aquion's Aspen 48M-25.9 battery. The Aspen 48M-25.9 battery produced by Aquion Energy is an advanced saltwater storage battery that is safe, environmentally friendly, efficient and highly scalable. Based on Aquion's sustainable Aqueous Hybrid Ion (AHI™) technology, the battery is engineered to meet Cradle to Cradle certification standards. It is the only battery in the world to have achieved this certification and is designed for hassle-free, long duration operation in stationary, deep cycling applications.
"We are delighted to partner with Schneider Electric, EIWAT and RE-ENERGY on this exciting project, which represents our largest deal to date and the first in Japan," said Scott Pearson, Chief Executive Officer, Aquion Energy. "As more utilities and renewable energy developers around the world search for a safe and truly renewable alternative to lithium-ion storage solutions, we see a significant opportunity for continued expansion into global markets for our Aspen battery series."
By establishing EIWAT Storage I as a model case, EIWAT, Schneider Electric, and RE-ENERGY will be able to swiftly construct a solar power system that utilizes advanced Aquion Energy Aspen batteries, demand for which is expected to increase in the future. This system can be applied to public facilities and datacenters because Aquion AHI batteries are completely non-flammable and non-explosive.
###
About Aquion Energy
Aquion Energy is the manufacturer of proprietary Aqueous Hybrid Ion (AHI™) batteries and battery systems for long-duration, stationary energy storage applications. Aquion's Aspen product line is optimized for daily deep cycling for residential solar, green architecture, off-grid and microgrid, telecom towers, energy management, and grid-scale applications. Aquion's high-performance, safe, sustainable, and cost-effective batteries deliver reliability and value for customers. The company's battery systems provide flexible, modular energy storage that enables broad adoption of renewable energy technologies such as wind and solar, reduced reliance on fossil fuels, and optimization of existing grid-tied generation assets. For more information, visit http://aquionenergy.com.
Featured Product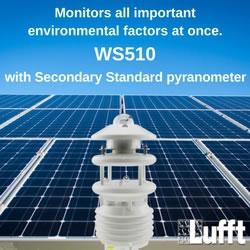 First and only Smart Weather Sensor with integrated Kipp & Zonen CMP10 Pyranometer (secondary standard). From the WS product family of professional intelligent measurement transducers with digital interface for environmental applications. Integrated design with ventilated radiation protection for measuring: Air temperature, relative humidity, air pressure, wind direction, wind speed and radiation. One external temperature or rain sensor is connectable.