Wind lease programs are becoming a more popular business model, and the applications for small wind turbines are expanding, report finds
BOULDER, Colo.--(BUSINESS WIRE)--A new report from Navigant Research analyzes the global market for small and medium wind turbines (SMWTs), examining the competitive landscape, market issues, and technology issues, and providing forecasts for capacity and revenue, through 2026.

Despite weakening policy drivers and competition from declining solar PV prices, the SMWT industry is still poised for growth. With a large amount of wind resource potential still available, plus several growing and emerging markets, the industry is anticipated to sustain itself into the foreseeable future. Click to tweet: According to a new report from @NavigantRSRCH, the global installed capacity of SMWTs is expected to grow from 176.4 MW in 2017 to 446.0 MW in 2026.
"With historically leading markets such as the United States, the United Kingdom, and China seeing declining annual installed capacities of small and medium wind in recent years, other countries such as Japan, Denmark, and Italy are emerging as forces in the distributed wind market thanks to favorable government incentives," says Adam Wilson, research associate with Navigant Research. "Were also seeing a shift with medium-sized turbines as their niche slowly shrinks as drivers continue to favor small wind turbines for distributed wind and larger multi-megawatt turbines dominating utility-scale applications."
As the SMWT market continues to mature, wind lease programs are becoming a more popular business model, and the applications for small wind turbines are expanding, according to the report. Key industry players, however, are beginning to set themselves apart as market innovators by seeking out and expanding to different areas around the globe as policies shift and demand changes.
The report, Market Data: Small and Medium Wind Turbines, analyzes the global market for SMWTs, defined as any wind turbine less than 1,000 kW in capacity. The study provides an analysis of the market issues, including demand drivers and challenges, associated with SMWTs. Global market forecasts for capacity and revenue, segmented by region, extend through 2026. The report also provides an overview of the technology issues related to SMWTs, as well as the competitive landscape. An Executive Summary of the report is available for free download on the Navigant Research website.
About Navigant Research
Navigant Research, the dedicated research arm of Navigant, provides market research and benchmarking services for rapidly changing and often highly regulated industries. In the energy sector, Navigant Research focuses on in-depth analysis and reporting about global clean technology markets. The teams research methodology combines supply-side industry analysis, end-user primary research and demand assessment, and deep examination of technology trends to provide a comprehensive view of the Energy Technologies, Utility Transformations, Transportation Efficiencies, and Buildings Innovations sectors. Additional information about Navigant Research can be found at www.navigantresearch.com.
About Navigant
Navigant Consulting, Inc. is a specialized, global professional services firm that helps clients take control of their future. Navigants professionals apply deep industry knowledge, substantive technical expertise, and an enterprising approach to help clients build, manage and/or protect their business interests. With a focus on markets and clients facing transformational change and significant regulatory or legal pressures, the Firm primarily serves clients in the healthcare, energy and financial services industries. Across a range of advisory, consulting, outsourcing, and technology/analytics services, Navigants practitioners bring sharp insight that pinpoints opportunities and delivers powerful results. More information about Navigant can be found at navigant.com.
Featured Product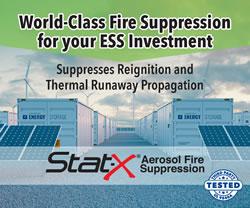 Stat-X® condensed aerosol fire suppression is a solution for energy storage systems (ESS) and battery energy storage systems (BESS) applications. Our Stat-X condensed aerosol fire extinguishing product was tested for efficacy in suppressing li-ion battery fires. It was found that the product successfully extinguished single and double cell battery fires. This testing was conducted in parallel with a large battery fire testing program on behalf of a large energy storage company.