SolarWorld says the statement is particularly welcome for the U.S. solar-manufacturing sector, which is among those industries that for years has been under attack from injurious dumping, especially by Chinese state-financed companies.
HILLSBORO, Ore., March 2, 2017 - SolarWorld, the largest U.S. crystalline-silicon solar panel manufacturer for more than 40 years, today praised the outlines of a tough stance on unfair trade that are contained in a new "Presidents National Trade Policy Agenda for 2017," released Wednesday. The document calls for strict enforcement of U.S. trade laws to prevent subsidized imports from distorting markets and harming domestic industries and workers.

SolarWorld says the statement is particularly welcome for the U.S. solar-manufacturing sector, which is among those industries that for years has been under attack from injurious dumping, especially by Chinese state-financed companies. Dozens of U.S. companies went bankrupt after China started massively exporting dumped solar products during that countrys 11th and 12th five-year plans. The same happened in Europe and other free markets. Only following imposition of anti-dumping and countervailing measures in 2012 was the U.S. manufacturing industry able to recover enough to restart investing and creating jobs.
SolarWorld, with the full application of so-called PERC technology and the ability to deliver high-power bifacial solar modules, is again a technological leader in the global solar industry, the company says. Nevertheless, a new wave of Chinese overcapacity and dumping, orchestrated by the Chinese government, as well as major circumvention activities and other violations of existing measures, have again led to a critical situation for the whole U.S. solar manufacturing industry, SolarWorld says.
"The sun is our strongest energy source for the future," says Juergen Stein, U.S. president of SolarWorld. "Americans were the first to reach the moon. We cannot allow China now to monopolize the sun by violating trade rules and engaging in unfair competition. The same is true for all of the other industries that are a strategic focus of Chinese dumping and unfair trade. Acting against dumping has nothing to do with protectionism. The opposite is true. Trade defense is necessary to address the fact that non-market economies such as China are strategically building up state-financed overcapacities and severely damaging market-economy industries."
The new national trade policy agenda emphasizes the importance of clear trade rules and the use and enforcement of trade defense instruments to restore fair competition and maintain efficient markets. The executive branch "will not tolerate these unfair trade practices that harm American workers, farmers, ranchers, and businesses," the trade-agenda document says. "These practices lower living standards for all Americans by distorting U.S. and global markets and preventing resources from being allocated in the most efficient manner."
Stein says the company welcomes the emphasis on trade law enforcement in light of its potential to save U.S. jobs and manufacturing. Having been subject to Chinese dumping, cyberhacking and subsidies for more than five years, the company says it has fought through two sets of trade cases against what the U.S. government numerous times has deemed illegal trade practices on the part of China and its state-sponsored solar industry.
"We have done all the right things," Stein says. "We have invested more than $1 billion in U.S. manufacturing, we have innovated in our technology, we have maintained more than 800 U.S. jobs, and we have fought long trade battles. But still we must count on the Administration and our Congressional leaders to support heightened trade law enforcement to make sure our U.S. workers can remain on the job and we can continue to make U.S. investments in industry-leading technology."
About SolarWorld REAL VALUE: SolarWorld manufactures and sells high-tech solar power solutions and, in doing so, contributes to a cleaner energy supply worldwide. The group, headquartered in Bonn, Germany, employs 3,288 people and operates facilities in Freiberg and Arnstadt, Germany and Hillsboro, Oregon, USA, as well as in a joint venture with Qatar Solar Technologies. From raw material silicon to solar wafers, cells and modules, SolarWorld manages all stages of production ‒ including research and development in its own company, SolarWorld Innovations. Through an international distribution network with locations in Europe, USA, Singapore, Japan, South Africa and Qatar, SolarWorld supplies customers all over the world. The company upholds high social standards and commits itself to resource- and energy-efficient production. With its program Solar2World, the company supports the expansion of solar power in developing countries. SolarWorld was founded in 1998 and has been publicly traded on the stock market since 1999. Connect with SolarWorld on Facebook, Twitter and www.solarworld.com.
Featured Product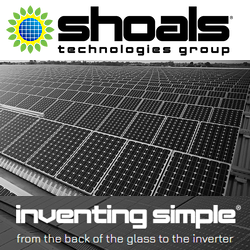 Inventing Simple® isn't just a slogan to us, it's a way of life. Using simple plug-and-play ideology, we revolutionized solar installations in 2003 with our Interconnect System™. Our harnessing system is now the gold standard EPC's use around the world. By using simple ideas, we are making solar energy a more affordable and clean power source for future generations.