Weather measurement expert ramps up production for its remote sensing system used by wind developers, operators and investors worldwide
Vaisala, a global leader in environmental and industrial measurement, has doubled production capacity at its Boulder, Colorado, U.S. operations center for the Triton Wind Profiler. Vaisala has increased capacity to meet the needs of wind farm developers and operators for quick, reliable access to accurate hub-height wind measurement data.

Vaisala now offers customers faster turnaround on the remote sensing device, bringing delivery times down to as little as two weeks. The increase in demand for Triton comes from a growing wind industry that has widely adopted remote sensing systems for measuring wind, allowing faster development, better financing, and more efficient wind farm operations.
The remote sensing systems versatility, ruggedness, mobility and ultra-lower power requirements make it a dependable choice for collecting wind resource measurements, especially as wind farm developers continue their push into more remote territories around the world, where the installation of met masts is often impractical.
Wind developers use Triton to measure wind speeds at prospective wind farm sites because the remote sensor offers accurate data at the heights of todays taller turbines while helping them overcoming many hurdles. Tritons mobility and online data recording allow developers to quickly collect the wind information needed to conduct assessments, and make decisions about viable sites - rather than waiting for met towers to be planned, permitted and constructed.
Wind farm operators are taking advantage of the same Triton features to help optimize their wind generation assets more cost-effectively. The Triton has many operational applications, such as indicative power performance testing, turbine wake studies and verification of met masts. In all of these cases, Triton helps operators perform a more robust analysis generally at a much lower cost and time commitment.
"We are witnessing a global shift toward remote sensing away from traditional met masts," said Pascal Storck, Head of Renewable Energy at Vaisala. "This is driven in part by new standards and acceptance for power performance testing, but primarily from the simple fact that remote sensing, especially SoDAR systems like Triton, offer a faster, more cost-effective means of reliably recording wind measurements for our industrys ever-taller turbines."
Storck added, "Vaisala has continuously been improving Triton manufacturing through the application of lean manufacturing principles. To meet increasing demand from our customers, we were able to quickly scale up our capacity. It helps considerably that Vaisala has been a leader in the manufacturing high-quality weather measurement equipment for over 80 years."
"With global wind capacity growing year on year, and allocations for farm development anticipated in even more remote and challenging locations in 2017, Triton will continue to offer its users the accurate wind resource data necessary to design better, more efficient wind farms."
Vaisala Energy
Weather provides the fuel for renewable energy projects and is one of the largest variables impacting production. Vaisala uses more than 80 years of weather expertise to help the global renewable energy industry develop and operate wind and solar projects better, faster and more efficiently. Our measurement, assessment, forecasting and asset management products and services leverage proven science and advanced technology to mitigate the impact of weather risks on energy generation and support profitable decision-making across the entire project lifecyle, from greenfield prospecting and due diligence through operational forecasting and plant optimization. www.vaisala.com/energy twitter.com/VaisalaEnergy linkedin.com/company/vaisala-energy
About Vaisala
Vaisala is a global leader in environmental and industrial measurement. Building on 80 years of experience, Vaisala contributes to a better quality of life by providing a comprehensive range of innovative observation and measurement products and services for chosen weather-related and industrial markets. Headquartered in Finland, Vaisala employs approximately 1600 professionals worldwide and is listed on the NASDAQ OMX Helsinki stock exchange. www.vaisala.com www.twitter.com/VaisalaGroup
Featured Product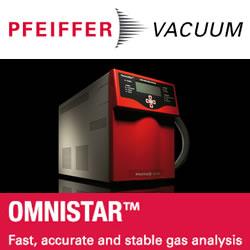 The Pfeiffer Vacuum OmniStar benchtop analysis system offers you a compact footprint, powerful software and Ethernet connectivity. It's the optimum solution for many real-time gas analysis applications. With the OmniStar, Pfeiffer Vacuum offers you a complete solution for gas analysis, in chemical processes, semiconductor industry, metallurgy, fermentation, catalysis, laser technology and environmental analysis. The turnkey OmniStar gas analysis system consists of heated, temperature-regulated gas inlet system, Quadrupole mass spectrometer, a dry diaphragm vacuum pump and HiPace turbopump. Unlike competing methods such as FTIR, OmniStar is suitable for qualitative and quantitative analysis of most gases.