200kW / 800kWh battery to be paired with solar to achieve significant savings at a world class resort in Nicaragua
AUSTIN, Texas - ViZn Energy Systems Inc. (ViZn), a leading provider of energy storage systems for utility, commercial and industrial (C&I), and microgrid applications, has been selected to provide a 200kW (four hour) flow battery in Central America. The versatile zinc-iron redox battery from ViZn is being combined with an 800kWp solar array that will enable the Rancho Santana resort to take advantage of multiple behind-the-meter services, giving an estimated payback on the system of six and a half years.

"Electricity in Nicaragua is amongst the most expensive in Latin America and many C&I customers there are on a grid tariff with a peak rate between 6pm and 10pm when the energy usage spikes," said Ron Van Dell, President and CEO of ViZn Energy Systems. "There is also no net metering for excess solar electricity, so our four-hour battery is a strong match for the market because it enables customers to install larger PV systems, get significantly cheaper energy than the grid rates, and mitigate elevated energy and demand rates during the evening network peak."
Rancho Santana is a world class resort and residential community covering 2,700 acres on the Pacific Coast of Nicaragua. The property has 152 homes and an additional 17 rooms and load is growing every year. PELICAN, S.A., an EPC based in Nicaragua, will be installing the PV system and integrating it with the ViZn flow battery and back-up diesel generators.
"Our annual utility expenses are growing and we are exposed to significant peak demand charges, so we had to find a way to sustainably reduce our energy costs without impacting the sensitive environment at the resort," said Rancho Santana CEO Matt Turner. "PELICAN proposed an innovative solar+storage system that will allow us to save over $250,000 per year on our utility bills. Using the non-toxic ViZn batteries for the energy storage not only alleviates any of the environmental concerns, but also provides excellent ROI."
Allan Cruz and Lâl Marandin are the co-founders of PELICAN and they said, "Rancho Santana came to PELICAN for help. Weve been working with them to identify the best solar+storage solution and after evaluating numerous storage options, ViZn had the most economically attractive system. ViZn was awarded this project because its versatility to provide both power and energy services gave us confidence the asset would be able to accommodate future growth at the resort."
The ViZn energy storage system is a self-contained solution that does not require cooling systems and is easily interconnected to meet higher power and energy requirements. ViZn Energys flow batteries experience zero capacity fade over 20 years and they have full access to 100% of their state of charge, giving them significantly more useable output than competitive batteries. Uniquely, they are also capable of performing both rapid, high-power discharges and slower, long-duration releases at lower power (unlike other storage technologies that can only do one or the other). This enables utilities, C&I customers, and other end users to stack applications and incorporate multiple value streams. The inherently safe zinc-iron chemistry uses globally abundant materials and is non-flammable, non-toxic and easily recyclable at the end of life.
About ViZn Energy Systems, Inc.
ViZn Energy Systems, Inc. is comprised of a visionary team of scientists, engineers and business leaders who are passionate about creating and commercializing a revolutionary energy storage solution for the commercial & industrial, microgrid and utility-scale markets. Founded in 2009 and based on eight previous years of research, ViZn is commercializing highly scalable energy storage systems, ranging from tens of kilowatts to mega-watt storage. The ViZn solution is safe, reliable, cost effective, and scalable to meet the needs of todays ever-changing energy landscape. For more information, visit: www.ViZnEnergy.com
###
For additional information, please contact:
Press Contact:
Wendy Prabhu
Mercom Communications, a division of Mercom Capital Group
1-512-215-4452
vizn@mercomcapital.com
ViZn Energy Systems Inc. Contact:
ViZn Energy Systems, Inc.
1- 630-841-8710
info@ViZnenergy.com
Featured Product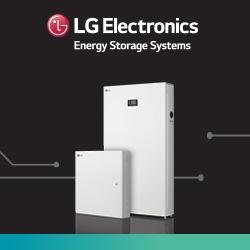 The NeON R module features "Back Contact" cell technology delivering an entirely black panel that is aesthetically pleasing and energy efficient. The cell's seamless, surface blends perfectly into nearly all rooftop designs while the module's electrodes are positioned on the rear of the cell. Using LG's N-type cell structure, the panels produce 365W of energy, up to 7.3kWp, compared to 5.8kWp of the p-type cell. The module's new design minimizes LID, thereby delivering a longer lifespan and increased energy output.