Asia (Guangzhou) Battery Sourcing Fair 2017 (GBF ASIA 2017)
Asia (Guangzhou) Battery Sourcing Fair 2017 (GBF ASIA 2017)

Date:August 16th-18th, 2017
Venue: China Import & Export Fair Complex
Add: No.380, Mid of Yuejiang Road, Haizhu Distract, Guangzhou, Guangdong
Organized by: Guangdong Grandeur International Exhibition Group
How about GBF Asia 2016
It's estimated that nearly 100 exhibitors will attend GBF Asia 2016. Welcome to join us and to find business partners from GBF Asia 2016. Partial exhibitors are recommended as follows: Shenzhen Mashine Info & Tech Co.,Ltd.,Huizhou Shen Hong Technology Co.,Ltd.,Shenzhen Yaluxing New Energy Material Co.,Ltd.,Shenzhen Shenbo Automation Co.,Ltd.,XI'AN SINOFUSE Co.,Ltd,MIKROUNA Mechanic & Electronics Technology Co.,Ltd. ,Shenzhen Tianweisaili Mechanic & Electronics Equipment Co.,Ltd,Guangzhou SIGNODE Smart Technology Co.,Ltd,Dongguan SHOLASER Technology Coo.,Ltd,Shenzhen Phaeton Innovative Technology Co.,Ltd.,Shanxi Deyi Technology Co.,Ltd.
China, the Best Choice to Purchase or Explore Market
China is the battery manufacturing and trading base around the world, while China has occupied more than half of the total amount of global battery products, among which approximately 80% of the products are for export. Statistically, above-scale battery manufacturing enterprises nationwide have made 17.1% growth of main business revenue, along with 54.2% growth of total profit, year on year. Meanwhile, the main business revenue on lithium-ion battery products achieves year-on-year growth of 31.6%, with 103.8% year-on-year growth of total profit. The lead-acid battery in China has ushered booming development while the annual growth rate is about 30%. It is predicted that the nationwide lithium battery markets in 2016 and 2020 will respectively reach 59.6 billion yuan and 200 billion yuan.
Exhibition Scope
Various kinds of batteries
Combined batteries for cellphones, interphones, cordless telephone, laptops, digital cameras, portable DVD, emergency lights, electric toys, UPS, railway locomotives and passenger cars, ships, etc.
Power batteries and management systems for electric tools, electric bicycles, electric vehicles, etc.
Energy storage batteries for wind power generation systems, solar photovoltaic systems and wind-solar hybrid systems, etc.
Power storage application and engineering
Battery materials and accessories
Battery manufacturing equipment and testing devices
Two relevant fairs held under one roof, sharing the exhibitors and buyers!
The 6th Guangzhou International Power Products and Technology Exhibition (Power Expo 2016 )
The 8th Guangzhou International Solar Photovoltaic Exhibition (PV Guangzhou 2016)
Contact us:
Guangdong Grandeur International Exhibition Group
E-mail: Aileenchen1@yeah.net; Aileen2017@yeah.net
Tel:+86 20 19806525
Fax:+86 20 82579220
Facebook: https://www.facebook.com/aileen.chen.752861
Website: http://www.battery-expo.com/index.php?lang=en
Featured Product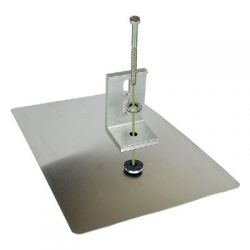 The GreenFasten™ - GF1 system utilizes the patented watertight technology EcoFasten Solar® is known for. The flashing is fit with our EPDM rubber bushing and when used with a compatible EcoFasten Solar compression bracket (milled with countersink), a watertight seal is created, which protects the integrity of the roof. Requiring just a single fastener (lag bolt or self-drilling), GreenFasten provides the fastest install in the industry and will not void roofing manufacturer's warranties. Backed by IAPMO certification, GreenFasten delivers a mounting solution for all new or existing (retrofit) composition shingle roofs, and is the most cost-effective solution available. Like all of the solar roof mount solutions in our line of products, GreenFasten is made in the USA using recycled materials.