Dukosi, the battery management technology innovator, and Swindon Silicon Systems, a world leader in the design, test and supply of complex, custom, mixed-signal electronics for automotive and industrial applications, today announced they have signed a strategic agreement to bring Dukosi's disruptive semiconductor chip based battery management solution to market.
By engaging with Swindon on a comprehensive development program, Dukosi leverages cutting-edge silicon design expertise and comprehensive testing and certification capabilities. The companies expect that the resulting product will be available in the second half of 2018 supporting multiple end-markets, including the stringent requirements of the global automotive industry.

Dukosi has developed a unique approach to battery management that acquires, processes and stores discrete data directly at the cell. Using novel wireless technology, the system transmits real-time information on cell health and performance to support master level control of the battery pack. Dukosis ground-breaking approach optimizes system architecture design and management of batteries in electric vehicles, industrial and grid energy storage applications.
"We are thrilled to have entered this relationship with a global automotive and industrial partner supplier like Swindon Silicon Systems, who will provide world class operations, intellectual property, expertise and certification support to our product development program," said Joel Sylvester, Dukosi CTO. "We set extremely challenging criteria in our search for a partner - seeking a company who could deliver a product that will respond to the rigorous standards demanded by our customers. Swindon excelled in its response to every challenge."
"The adoption of batteries is becoming ubiquitous and demand for intelligent sensing technologies is growing considerably," said Jerry Loraine, Managing Director at Swindon Silicon Systems. "Dukosis technology is a great example of how innovation can make an impact in this market and we are excited to be partnering on the development of such an innovative and exciting product. The Dukosi team has developed a solution to tackle battery management challenges in a novel way and are looking forward to applying our expertise in mixed signal ASICs and sensing to help them create a technically compelling, certified and cost-effective product."
About Dukosi
Dukosi is a developer of intelligent wireless technology that transforms the way batteries are designed, deployed and managed in electric vehicle, grid and industrial energy storage applications. By reducing complexity, improving accuracy, and providing a unique history for each cell, Dukosi dramatically reduces the cost and weight of batteries, optimizes individual cell performance and extends their useful life. For more information, visit www.dukosi.com
About Swindon Silicon Systems
Swindon Silicon Systems, a Sensata Technologies company, is a global leader in the design, test and supply of complex custom mixed signal ASICs, sensor interfaces and MEMS pressure sensor solutions for both Automotive and Industrial applications. For more information, visit www.swindonsilicon.co.uk
About Sensata Technologies
Sensata Technologies is one of the worlds leading suppliers of sensing, electrical protection, control and power management solutions with operations and business centers in thirteen countries. Sensatas products improve safety, efficiency and comfort for millions of people every day in automotive, appliance, aircraft, industrial, military, heavy vehicle, heating, air-conditioning, data, telecommunications, recreational vehicle and marine applications. For more information, please visit Sensatas web site at www.sensata.com
Featured Product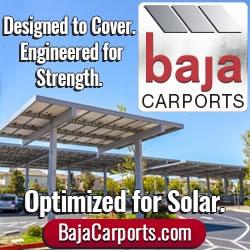 Baja Carports offers an extensive solar support system product line customized to customers' site specifications by in-house engineers, meeting their parking lot coverage, plus optimal PV production needs. Baja's Full Cantilever Tee is often paired with its Semi and Full Cantilever carports to meet live/loads up to 60psf and wind speeds to 160mph. All Baja products are pre-fabricated, bolted connections, pre-galvanized structural steel for fast on-site installation and project aesthetic requirements."