Early sales create massive savings for customers
ROCKLIN, Calif., April 5, 2017 /PRNewswire/ -- JLM Energy, Inc. announced today that its first MicroStorage product, Phazr, is now certified to UL standards 9540 and 1973. These standards are designed to provide third-party validation of safety, reliability and performance for energy storage products.

UL 9540, a joint standard with Canada, certifies Phazr as a complete home energy storage system that interacts safely with UL 1741 certified inverters. The system meets the latest National Electric Code 2017 requirements.
UL 1973 is a battery safety certification standard, which validates Phazr's "ability to safely withstand simulated abuse conditions," including extreme heat, drop and impact tests. Phazr was subjected to 120 hours of testing at 150 degrees Fahrenheit.
"We have thousands of orders for Phazr systems, both residential and commercial. Sales to date create an estimated $5 million in lifetime savings," said Ardes Johnson, VP of Strategic Initiatives at JLM Energy. "Phazr's UL approval status will accelerate building and electrical permitting processes."
Phazr uses JLM Energy's patent-pending Symmetric DC Regulation, the only technology available that enables a solar panel to charge a battery and send power to a home or building at the same time. Excess energy can then be stored in the battery for use 24-hours a day.
Phazr is also self-supply certified in Hawaii.
About JLM Energy
JLM Energy is an energy technology company. JLM has created a fully-integrated software platform and energy technology bundle that optimizes energy use and maximizes savings for customers. The bundle includes solar, energy storage, monitoring devices, algorithms and load controllers that are all unified via a single software platform.
Featured Product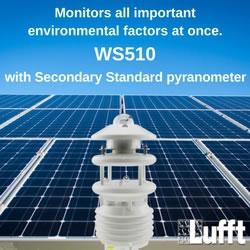 Professional weather sensors form the heart of large solar plants supporting their operation and performance. Lufft was the first manufacturer to combine several sensors in one housing, bringing the largest multiparameter weather sensor family with 19 members into being. Many of them are well-suited for solar site assessment and continuous monitoring. The most commonly used one is the WS600 delivering data on temperature, air pressure, wind, relative humidity and precipitation. Through its open protocol, it can easily be attached to radiation sensors e.g. from Kipp&Zonen. Other models have an integrated Silicon, Second Class or Secondary Standard radiation sensor.