APRIL 4, 2017 - Newburyport, MA - USA - Mersen, global expert in electrical power and advanced materials, and ARCOM, the leader in specifications, are pleased to announce that Mersen product data and customized specifications are available through ARCOM's software platforms to architects, engineers and design professionals.
ARCOM and Mersen have worked together to create customized versions of the industry-trusted MasterSpec® sections to accurately specify Mersen's unique products. Along with these specification sections, Mersen's product catalog and data sheets are easily accessible to specifiers when working on their projects.

According to Gabriel Ledru, VP Global Product Line, Surge Protection, "This agreement with ARCOM makes it possible for members of the architectural and engineering community to access the Mersen specifications they need, at their fingertips, to help improve the safety of their electrical infrastructure design and longevity."
ARCOM and Mersen believe this relationship will benefit all design professionals as they select and specify products.
------
ABOUT MERSEN
Global expert in electrical power and advanced materials, Mersen designs innovative solutions to address its clients' specific needs to enable them to optimize their manufacturing process in sectors such as energy, transportation, electronics, chemical, pharmaceutical and process industries. Mersen Electrical Power provides a comprehensive line of current-limiting fuses (low voltage, general purpose, medium voltage, semiconductor, miniature and glass, and special purpose) and accessories, fuse blocks and holders, power distribution blocks, low voltage disconnect switches, surge protective devices, high power switches, heatsinks, laminated bus bars, and more. For more information, call 978-462-6662 or visit ep.mersen.com.
About ARCOM
ARCOM, the specification experts, exclusively publishes MasterSpec®, a product of the American Institute of Architects (AIA), reaching over 60,000 design professionals involved in building projects. ARCOM owns and publishes SpecText® for use by engineers for infrastructure projects, including water and wastewater utilities and equipment. ARCOM provides extensive product and manufacturer information through cloud-based specification resources, custom manufacturer specifications, and the SpecBuilder Expert platform. ARCOM's innovative software specification tools and resources dramatically simplify specification creation, research, and project management. Follow ARCOM on Facebook, Twitter, LinkedIn and our blog.
------
PRESS CONTACTS
Mersen
Karen Schmuch
Marketing Communications Manager, North America
karen.schmuch@mersen.com | (978) 465-4919
ARCOM
Lynn Tenney, CSI
Communications Manager
ltenney@arcomnet.com | (801) 521-9162 x 3332
Featured Product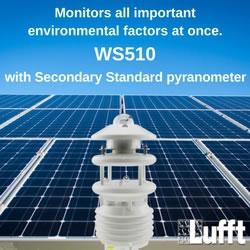 Professional weather sensors form the heart of large solar plants supporting their operation and performance. Lufft was the first manufacturer to combine several sensors in one housing, bringing the largest multiparameter weather sensor family with 19 members into being. Many of them are well-suited for solar site assessment and continuous monitoring. The most commonly used one is the WS600 delivering data on temperature, air pressure, wind, relative humidity and precipitation. Through its open protocol, it can easily be attached to radiation sensors e.g. from Kipp&Zonen. Other models have an integrated Silicon, Second Class or Secondary Standard radiation sensor.