Thirty-five finalists of the 2017 Young Professionals Green Energy Awards are announced today.
Wind, wave, bioenergy, tidal, solar and hydrogen power, as well as renewable and low-carbon heat and the emerging field of energy storage, are all represented in the work of the challengers for nine categories.

- Julie Blue is the Quality & Safety Team Manager at CS Wind's Campbeltown factory - the only wind turbine tower plant in the UK;
- Marine energy CEO David Rubie-Todd has grown technology developer Wavepower from three to 33 employees in a little over two years;
- Solicitor Emma Reid has advised on the planning and property aspects of over 800MW of new electricity generation in Scotland.
The event, which will welcome around 300 guests to Glasgow Science Centre on May 25, was launched in 2015 to showcase the enormous range of fresh talent in the sector.
Previous winners have gone on to address a UN climate conference, pioneer innovative solutions to industry challenges and employ apprentices themselves.
Jenny Hogan, Director of Policy at Scottish Renewables, said: "It's impossible not to be impressed by the quality and quantity of entries received for this year's Young Professionals Green Energy Awards.
"Our industry is home to some very skilled and talented people and these awards, for the third year, aim to recognise their achievements and motivate others to emulate their successes. Everyone on the shortlist should be proud of what they have achieved in their careers so far."
More than 80 entrants who've worked in Scotland's renewable energy sector for five years or fewer were whittled down to a shortlist of 35, which is officially announced today (April 5).
That shortlist can be found here.
The full list of categories this year is:
- Academic Award, sponsored by Energy Technology Partnership
- Achiever Award, sponsored by SSE
- Business Development Award
- Communicator Award
- Engineer Award
- Innovator Award, sponsored by Highlands & Islands Enterprise
- Judges Award, sponsored by ScottishPower Renewables
- Professional Award
- Project Manager Award
The 2017 Young Professionals Green Energy Awards are sponsored by ScottishPower Renewables, which has produced a video which looks behind the scenes at last year's event.
CEO Keith Anderson said: "It is pleasing to see such a strong group of finalists across all of the categories, demonstrating that innovation is alive and well in the renewable energy sector.
"As one of the leading developers of renewable energy in the UK ScottishPower Renewables is proud to support the Young Professionals Green Energy Awards, which celebrates the achievements of the future leaders in our sector."
The 2017 Young Professionals Green Energy Awards are also endorsed by Skills Development Scotland.
Featured Product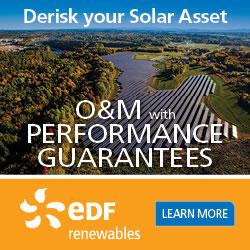 EDF Renewables offers the same innovative solutions that maximize the performance of our own 5.2 GW of installed projects. Because we're not an equipment manufacturer, our recommendations are transparent and data-driven. We cover the entire project lifecycle: from pre-commissioning support, through warranty and post warranty operation, to late stage and decommissioning.