Next Generation Energy's Distribution Agreement with Pacific Energy Alternatives Quickly Delivers Sun Bandits Simpler, On-Demand Solar Water Heating and Storage Solution to Hawaiians Looking to 'Dump the Pump, Quickly Lower Energy Bills and Reap Rich Tax Incentives
The renewable energy innovators at Next Generation Energy have inked an agreement with Pacific Energy Alternatives to make Sun Bandit® solar hybrid water heating systems more immediately accessible to solution-hungry builders, contractors and property owners throughout the Hawaiian Islands. Sun Bandit is the worlds first SRCC-certified, UL-listed, PV-powered solar water heating system.

The partnership -- along with NGEs Sun Bandit technology - was introduced this month at Hawaiis Maui Energy Conference, whose "All Things Energy: Pursuing New Opportunities for Electricity and Beyond" theme provided a timely platform to showcase leading-edge solutions like Sun Bandit and to help the greater Hawaiian marketplace reduce energy costs and achieve the 100% sustainability goals of the Hawaii Clean Energy Initiative.
"Sun Bandits off-grid capabilities are ideal for markets like Hawaii, where net metering incentives are sunsetting and the desire to find relief from runaway electric bills is rising," said Next Generation Energys Chief Operations Officer Lori Beedon.
Hawaii has the most expensive electricity rates in the nation -- nearly double the national average.(1) Yet a majority of Hawaiian households use electricity to heat their water, something that traditionally accounts for around 35% of home energy bills. Hawaiian Electric touts solar water heating as an easy way to go solar while reducing energy costs. But industry-wide, adoption of standard, mechanical (pump-driven) solar water heating systems has failed to meet expectations, often because of ongoing maintenance issues.
In response, NGEs engineering innovators created Sun Bandit, whose certified solar water heating solutions eliminate fluids, leaks, pump stations, overheating, stagnation, freezing and the complicated installation and maintenance issues that can erode the value proposition of traditional solar water heating. Its easy to verify the Sun Bandit system is working - like traditional PV solutions, it comes with its own monitoring system.
With its pedigree of industry firsts, Sun Bandit presents a new, value-packed solar water heating option for 1) consumers looking to replace traditional solar water heating systems, 2) plumbing, PV and electrical contractors seeking more dependable solutions for their customers, 3) vacation property owners looking for low-cost energy-saving solutions and 4) builders and multi-family property owners seeking to gobble up tax incentives, meet emissions reduction goals and attract and retain sustainably-inclined tenants.
Just last year, Hawaii Energy created an entirely new category of solar water heating rebate for Sun Bandit consumers. Local rebates can be combined with state incentives (where available) and a 30% federal investment tax credit, further strengthening its ROI to eligible consumers. In some instances, incentives can collectively deliver up to 50% savings on qualifying systems.
These are among the reasons the Pacific Energy Alternatives team approached NGE about distribution opportunities - and why co-founder and CEO Greg Atchley says his dealer network is enthusiastic about bringing Sun Bandit technology to mainstream Hawaii - and to Main Street USA. But these arent the only reasons.
Expedited Solar: A License to Save
"With Hawaiis aggressive new sustainability goals, wait lists for permits to facilitate solar installations are frustratingly long," Atchley said. "Sun Bandit creates a load reduction that lowers energy costs without dependence on politically-charged tariff, net metering and utility approvals. And Sun Bandits off-grid capabilities dont require interconnection; installation can start the day after a contract is signed. One trip to the Building Department for a permit and customers can start saving."
Atchley said the pro-sustainability values inherent in the Next Generation Energy team combined with Sun Bandits multi-faceted value proposition present a stellar opportunity to deliver leading-edge solutions that create jobs, increase cash-flow and offer a lower cost of market entry for PV solutions that accelerate Hawaiis solar adoption rates.
"Our priority is to provide all who are working toward a more sustainable future -- dealers, contractors, builders, public officials, non-profits and homeowners - faster access to Sun Bandit solutions as a way to achieve both their immediate needs for lower energy bills and the more lasting legacy of the sustainable energy future outlined in Hawaiis Clean Energy Initiative. This," noted Atchley, "is something were eager to build our business around."
About Next Generation Energy's Sun Bandit®: Sun Bandit is a trademark-registered, patented product innovation of Colorado-based Next Generation Energy (NGE®), whose expertise in PV, solar thermal and off-grid system design and engineering have been delivering high-performing, money-saving renewable energy solutions to commercial, utility-scale, governmental, individual and multi-family housing interests for over 30 years. Learn more by calling 877-NGE-4SUN - or visit http://www.ngeus.com. Find Sun Bandit at http://www.sunbandit.us.
Featured Product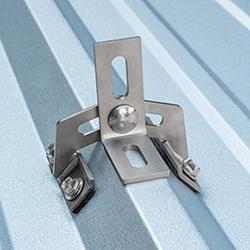 QuickBOLT Low Profile QuickBOLT with Microflashing™ is the industry's affordable, UL Certified Asphalt Shingle mounting system. The Microflashing™ is compressed by the collar on the bolt to create a water-tight seal. With an installation time of less than one minute, the Low Profile QuickBOLT allows installers to complete more jobs.