The 38th Amateur Photo Contest winners will be announced at the GRC Annual Meeting in Salt Lake City, Utah, USA.
(Davis, California, USA.) The Geothermal Resources Council (GRC) is pleased to announce this years Amateur Photo Contest. The purpose of the contest is to showcase quality photography featuring geothermal energy around the world.

The winners will be announced at the GRC Annual Meeting & GEA GeoExpo+ being held in Salt Lake City, Utah, USA from October 1-4. The theme for this years meeting is "Geothermal Energy: The Power to Do More".
The first place winner will receive $150, second place - $100, and third place - $75. Honorable Mention photos will receive certificates.
Photographs on any subject related to geothermal energy can be submitted such as geothermal energy production, Enhanced Geothermal systems (EGS), direct use and geothermal heat pumps. These can include photos of well testing, drilling, operation of geothermal equipment, newly developed equipment, or plant operation, construction of a geothermal plant or plant site, and geological areas or surface manifestations (holding potential for geothermal exploration or development).
More information on the GRC Amateur Photo Contest, including a submission form, can be found on the GRC website [www.geothermal.org]. The deadline for submissions is August 18, 2017.
##
About the Geothermal Resources Council:
With the experience and dedication of its diverse; international membership bolstering a more than 45-year track record, the Geothermal Resources Council has built a solid reputation as the one of the worlds preeminent geothermal associations advancing geothermal development through education; research, and outreach. For more information, please visit www.geothermal.org.
For more information, please visit www.geothermal.org.
Get your daily geothermal news at Global Geothermal News
[ geothermalresourcescouncil.blogspot.com]. Become a fan on Facebook
[ facebook.com/GeothermalResourcesCouncil]. Follow GRC on Twitter [@GRC2001 and #GRCAM2017]. Check out GRCs YouTube Channel [ youtube.com/GeothermalCouncil]. See geothermal photos on GRCs Flicker page. [ flickr.com/photos/geothermalresourcescouncil]
###
Featured Product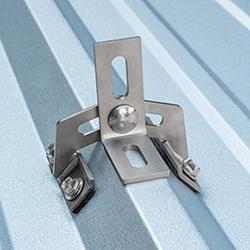 Error-Proof Compression: The QB2 doesn't leave any room for user error when it comes to Microflashing® compression. Once the Dual Drive Shoulder Screw is secured, the Microflashing® is compressed. Only 3 Components: The QB2 is comprised of Microflashing®, an L-foot and a Dual Drive Shoulder Screw. No more Nuts needed to tighten and secure the L-foot! Not only does this simplify the installation process, it also cuts down the installation time.