Global wind turbine orders collected from July through December from 24 countries and 11 vendors total nearly 15,000 MW, report finds
BOULDER, Colo.--(BUSINESS WIRE)--A new report from Navigant Research tracks all publicly announced wind turbine orders between July and December 2016, providing details on orders placed by region, country, and vendor, as well as a breakdown of the vendor market of the top countries.

The latest version of Navigant Researchs Wind Turbine Order Tracker shows a continued increase in global wind turbine deals during the second half of 2016. From July to December, orders were collected from projects in 24 countries and from 11 vendors, totaling nearly 15,000 MW of capacity. Click to tweet: According to a new report from @NavigantRSRCH, manufacturer Vestas extended its lead among turbine vendors with more than 6,445 MW of capacity reported—almost 3,000 MW more than in 1H 2016.
"Wind farm developers are becoming more willing to explore regions of less than ideal wind resources and wind turbine manufacturers are using larger rotors and higher hub heights to maximize capacity factors in these regions," says Adam Wilson, research analyst with Navigant Research. "Vestas is a good example of this—the companys average turbine rating for orders received in the second half of 2016 decreased from 2.96 MW to 2.8 MW while average rotor diameter actually increased slightly to 114.5 meters from 112.7 meters."
Vestas is trailed by Gamesa with just over 2,000 MW of orders announced, according to the report. Regionally, Asia Pacific leads, owing an 1,800 MW increase in capacity over the previous six months to strong showings in India and Australia. North America follows, with Europe close behind.
The report, Wind Turbine Order Tracker 2Q17, tracks all publicly announced wind turbine orders between July and December 2016 (2H 2016). The report contains analysis of orders placed by region, country, and vendors, as well as a breakdown of the vendor market of the top countries by capacity. Note that this report excludes orders for the Chinese market due to the opaque state of order reporting in that market. Analyses of turbine technologies such as rotor diameter, turbine rating, and specific power are also presented, and the offshore wind market is compared against the onshore wind market. An Executive Summary of the report is available for free download on the Navigant Research website.
About Navigant Research
Navigant Research, the dedicated research arm of Navigant, provides market research and benchmarking services for rapidly changing and often highly regulated industries. In the energy sector, Navigant Research focuses on in-depth analysis and reporting about global clean technology markets. The teams research methodology combines supply-side industry analysis, end-user primary research and demand assessment, and deep examination of technology trends to provide a comprehensive view of the Energy Technologies, Utility Transformations, Transportation Efficiencies, and Buildings Innovations sectors. Additional information about Navigant Research can be found at www.navigantresearch.com.
About Navigant
Navigant Consulting, Inc. is a specialized, global professional services firm that helps clients take control of their future. Navigants professionals apply deep industry knowledge, substantive technical expertise, and an enterprising approach to help clients build, manage and/or protect their business interests. With a focus on markets and clients facing transformational change and significant regulatory or legal pressures, the Firm primarily serves clients in the healthcare, energy and financial services industries. Across a range of advisory, consulting, outsourcing, and technology/analytics services, Navigants practitioners bring sharp insight that pinpoints opportunities and delivers powerful results. More information about Navigant can be found at navigant.com.
Featured Product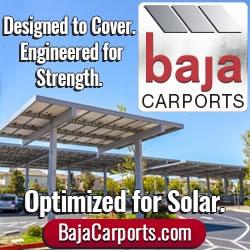 Baja Carports offers an extensive solar support system product line customized to customers' site specifications by in-house engineers, meeting their parking lot coverage, plus optimal PV production needs. Baja's Full Cantilever Tee is often paired with its Semi and Full Cantilever carports to meet live/loads up to 60psf and wind speeds to 160mph. All Baja products are pre-fabricated, bolted connections, pre-galvanized structural steel for fast on-site installation and project aesthetic requirements."