Asia GBF 2017 is one of the professional demonstration and trade platform of battery&energy storage industry, in which hundreds of exhibitors and thousands of professional visitors will gather there. GBF 2016 attracted more than 150 brand enterprises and media from different country to showcase their specific products and exchange ideal with the industry insiders, and the next session will be display in a higher level with a global view.
The 2nd Asia (Guangzhou) Battery Sourcing Fair 2017

(Short for: GBF ASIA 2017)
Date: August 16th-18th, 2017
Venue: China Import and Export Fair Pazhou Complex
Website: http://www.battery-expo.com/index.php?lang=en
Exhibition Scale:
Exhibition Area: 30,000sq.m. of 3 halls
No. of Exhibitors & Visitors: >300 exhibitors >35,000 visitors
Covered Scale: >40 countries and regions
As one of the leading fair on global battery industry, GBF ASIA 2016 attracted 153 brand enterprises and over 19,600 professional purchasers were present on site. Up to now, Leading enterprises like Tianjin Lishen, Jiangsu Highstar, Shenzhen OptimumNano, Guangdong Honbro, Hefei Guoxuan High-tech, Jiangsu Jinming Technology, Suzhou Quick Laser, etc, have signed up for GBF ASIA 2017, and professional visitors from over 30 countries and regions have registered as buyers.
Colorful Concurrent Activities:
2017 Asia Power Battery & Energy Storage Summit
Multiple Concurrent events:
The 9th Guangzhou International Solar Photovoltaic Exhibition (PV Guangzhou 2017)
The 6th Asia-Pacific Biomass Energy Technology & Equipment Exhibition (APBE 2017)
The 7th Guangzhou International Power Products and Technology Exhibition (Power Expo 2017)
For more info pls contact Aileen directly
Guangdong Grandeur International Exhibition Group
(The organizing committee of GBF ASIA 2017)
Contact Person: Aileen Chen
Tel: 86-20-29806525
Fax: 86-20-82579220
What's App: 86-15089702986
Email: sales9@grandeurhk.com, Aileenchen1@yeah.net
Web: http://www.battery-expo.com/index.php?lang=en
Featured Product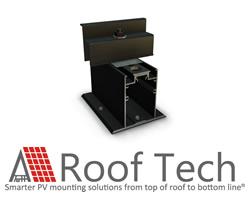 The most compact versatile rail-less PV mounting system under the sun. Instead of placing solar panels on top of long rails, simply attach E Mount AIR to rafters or the roof decking. Once panels are fastened to the roof, the system array is electrically bonded. The result is a visually seamless PV installation that stands the test of time. - Truly "One With The Roof". - PE stamped cert. letters available, UL 2703 Classified, ASTM 2140 fully waterproof. The one and only with integrated flexible flashing certified by the ICC! All the best quality. Only from Roof Tech