New Executives Demonstrate Company Maturity and Global Momentum
NEW YORK, May 17, 2017 - Eos Energy Storage ("Eos"), makers of the safe, ultra-low-cost Znyth® battery, today announced the addition of two energy industry leaders to the companys executive team. Jeff Wiener, former Director of Global Sales - Energy Storage at General Electric, joins as the companys Senior Vice President of Global Sales, and Chris Gerlach, former Vice President of Finance at Solar Reserve, joins as the companys Chief Financial Officer. The experience each brings from leadership roles at international energy companies adds momentum to Eos global expansion and commercialization of its utility-scale energy storage technology.

"Were incredibly excited to add these industry veterans to the team," says Jim Hughes, Eos Chairman of the Board and former First Solar CEO. "Their combined experience strengthens capabilities around product deployment, bankability and financing, and will reinforce Eos position as the go-to supplier for safe, cost-effective energy storage."
As Senior Vice President of Global Sales, Wiener will leverage his customer and industry experience to build and scale Eos brand globally, finding new opportunities and applications for the Eos Aurora® battery. Wiener spent 36 years in GEs power segment, playing roles in wind, thermal and hydro services, and most recently directed sales for the companys energy storage division. Under Wieners sales leadership at GE, the company deployed more than 55MW of capacity in 2016 alone, one of the leading market shares in the industry.
"I watched Eos for a number of years as they brought the Aurora product to market, constantly meeting key business milestones: It is now ready to go mainstream," says Wiener. "In addition to its industry leading cost position, I believe the Eos Aurora has significant advantages over other technologies in terms of full depth of discharge operation, modular design, installation simplicity and system safety. With industry leaders like Jim Hughes and CEO Michael Oster, I have great trust and belief in the leadership team, and Im glad to be a part of it. Im delighted to be working with Chris."
Chris Gerlach possesses a diverse background in finance and banking in the renewable energy sector as well as in the oil and gas, conventional power and telecommunications industries. In his previous role as SolarReserves Vice President of Finance and Global Head of Structured Finance, Gerlach was instrumental in financing the first commercial-scale power tower with storage which entered into commercial operation in late 2015. The project involved 1,100MWh of storage capacity, a figure greater than all commercially-deployed battery storage in existence at the time.
"I was drawn to the versatility of Eos revolutionary battery product, which can be brought to bear on a vast array of applications, from peak shaving and reliability-enhancing backup power to renewables integration and microgrids," says Gerlach. "The cost effectiveness of Eos proprietary technology creates an enormous opportunity to disrupt the market and lead lithium ion from a price, safety and longevity perspective. With commercial deployments now going into the field, Eos is setting a new standard in the industry."
Eos is preparing for the global expansion of its safe, robust and cost-effective grid-scale energy storage solutions. The companys core product—the Eos Aurora 1000│4000—is a 1MW|4MWh DC battery system employing Eos aqueous, zinc-based Znyth technology. Under pricing announced by Eos in April, the company is taking orders today for volume purchases at $160 per usable kWh for shipment in 2017 and $95 per usable kWh for shipment in 2022. Eos also recently announced the companys first South American deployment of its grid-scale Aurora system as part of a 5 MW hybrid solar and wind demonstration project developed by ENGIE in Brazil.
####
About Eos Energy Storage
Eos mission is to deliver energy storage solutions that enable safe, reliable, and affordable electricity for utilities and their customers. Eos produces a long-life, inherently safe, and easy-to-install DC battery system designed for grid-connected as well as commercial and industrial markets. The Eos Aurora® is the lowest-cost and highest-performance energy storage system designed to optimize grid infrastructure, enhance reliability, and control energy costs. Eos is located in Edison, NJ, and New York, NY; For more information, please visit www.eosenergystorage.com.
Media Contact:
Molly Rafelson
Eco Branding for Eos Energy Storage
eos [at] ecobrandit [dot] com
1.866.945.9445 ext. 707
Featured Product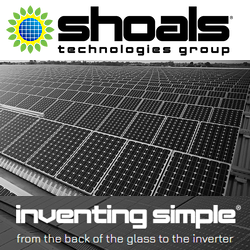 Inventing Simple® isn't just a slogan to us, it's a way of life. Using simple plug-and-play ideology, we revolutionized solar installations in 2003 with our Interconnect System™. Our harnessing system is now the gold standard EPC's use around the world. By using simple ideas, we are making solar energy a more affordable and clean power source for future generations.