WorleyParsons China, the country's largest international engineering, procurement and construction management (EPCM) provider, has been awarded a detailed engineering design contract with a major global polysilicon manufacturer.
The 10-month project will see the company lead the design of process units for high-purity E-grade polysilicon, which is widely used in the solar sector for the production of solar cells, integrated circuits and semi-conductors. High-purity polysilicon has a high photoelectric conversion rate and is one of the most effective clean energy sources available.

Chosen for its industry track-record, technical expertise and Intellectual Property Protection (IPP), WorleyParsons will optimise the customer's manufacturing process and reduce costs. More than 100 staff from five local offices will be required during the project's peak engineering stage.
Tom Liao, Executive Vice President - Lead for Business Group Chemicals & Petrochemicals at WorleyParsons China said: "This contract represents a significant step for WorleyParsons as we continue to build our expertise in the solar sector. Our industry track-record was a key factor in this award - cementing our position as a leading EPCM provider for the energy industry."
Featured Product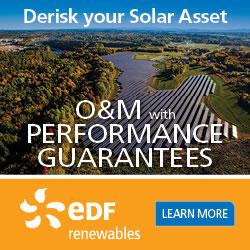 EDF Renewables offers the same innovative solutions that maximize the performance of our own 5.2 GW of installed projects. Because we're not an equipment manufacturer, our recommendations are transparent and data-driven. We cover the entire project lifecycle: from pre-commissioning support, through warranty and post warranty operation, to late stage and decommissioning.