Joint project installed at Channel Lumber in Bay Area for peak demand reduction, estimated $160,000 annual utility bill savings
OAKLAND, Calif. - June 6, 2017 - Sharp Electronics Corporations Energy Systems and Services Group (Sharp) and CivicSolar, a leading national full service solar distributor, announced today that CivicSolar is now offering Sharps SmartStorage® energy storage system through its vast distribution network of solar PV installers. Sharp and CivicSolars first project will be with technology developer and systems integrator Forecast Energy. The project features a 120 kW/160 kWh SmartStorage® system plus a 313.5 kW solar system and Forecast Energys proprietary forecasting platform that has been installed at Channel Lumber, one of the largest lumber companies in the Bay Area.

"Its a privilege to have been selected by Forecast Energy for the Channel Lumber project and by CivicSolar as a distribution ally, which will see them promote our SmartStorage® system to their network of 3,500 customers," said Carl Mansfield, General Manager and Founder of Sharps U.S. based Energy Systems and Services Group. "CivicSolar will broaden our reach to their vast network of customers in the solar industry and will bring our SmartStorage® solution to customers that are facing expensive peak demand charges. We anticipate teaming with both CivicSolar and Forecast Energy on future solar plus SmartStorage projects."
Sharps intelligent energy storage solution paired with solar PV systems works synergistically to reduce energy usage for commercial properties. Sharps SmartStorage® system is designed to pull power from the SmartStorage batteries rather than from the utility at the times of highest demand (which are the most expensive rates) and is particularly suited for properties in parts of California where commercial utility customers are paying up to 50 percent of their energy bills toward demand charges. Channel Lumber paid $172,385 in demand charges alone over a one year period.
"We provide solar developers and installers with the products and services they need to succeed, so bringing a new energy storage technology into the mix requires a high level of evaluation," said Stuart Fox, VP of Technical Sales for CivicSolar. "Sharps SmartStorage® system is available with a 10-year demand reduction performance guarantee and asset management service agreement. With Sharps solid reputation backing their system, our installer network will have confidence in Sharps SmartStorage® solution and their 10-year service agreement. That is already being demonstrated by our initial installation."
A detailed analysis of Channel Lumbers energy usage profile estimates that the solar plus SmartStorage® system will bring $160,466 in energy and demand savings annually - an estimated 62 percent reduction in Channel Lumbers total bill. Forecast Energy selected Sharps SmartStorage® system and was the integrator and installer for the entire project.
"After evaluating a number of systems, we chose solar plus Sharps SmartStorage® energy storage system because it provides our customer with better, cleaner power along with greater flexibility in their energy management and it integrates incredibly well with our solution stack," said Paul O Sullivan, COO of Forecast Energy. "We are thankful for the team at CivicSolar for bringing us high quality and industry-leading energy products, and in this case a reliable, brand-name solution backed by a 10-year performance guarantee, giving us confidence in our selection."
About Sharp Electronics Corporations Energy Systems and Services Group
Sharp Electronics Corporation (SEC) is the U.S. division of Sharp Corporation, a worldwide developer and manufacturer of one-of-a-kind premium technology products. SECs Energy Systems and Services Group (ESSG) focuses on developing innovative energy management products for the U.S. market. ESSG introduced the SmartStorage® behind-the-meter energy storage system, an energy storage solution designed to reduce peak demand usage for commercial and industrial buildings. Sharps industry-first 10-year performance guarantee is included with their 10-year operations and maintenance service agreement, an option available for all SmartStorage® system installations. Sharps integrated SmartStorage® solar hybrid solution is available with no money down financing options. For more information, visit: https://www.sharpsmartstorage.com/.
About CivicSolar
CivicSolar is a leading national solar equipment distributor in the US. CivicSolar distributes a full range of solar equipment to thousands of contractors throughout the United States, Caribbean, and Latin America, enabling solar installers to easily and cost-effectively design, sell and install solar photovoltaic (PV) systems. CivicSolar accelerates the adoption of solar and advanced energy technologies by delivering quality equipment, engineering, financing, and competitive pricing for every job. CivicSolar differentiates itself through a service-oriented culture and technology platform which helps deliver higher reliability, efficiency, and responsiveness from offices in Oakland, CA, Boston, MA, and Austin, TX. For more information, please visit www.civicsolar.com.
About Forecast Energy
Founded in 2012, Forecast Energy is a leading provider and developer of Energy Optimization solutions for commercial customers worldwide. The company designs, develops and implements scalable energy solutions to reduce customers energy costs, increase power capacity and improve overall power quality in large scale commercial and industrial facilities. Forecast Energys solutions are enabling energy optimization and efficiency in projects in California, Hawaii, Pennsylvania and overseas in the United Kingdom. Forecast Energy brings solutions in Solar and Storage design and implementation, energy forecasting, power harvesting and conditioning, Smart Monitoring and demand management, HVAC and lighting Optimization. Headquartered in Point Richmond, California. Please visit www.forecastenergy.com
Featured Product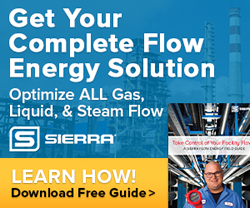 Download Flow Energy Guide - Written by Engineers For Engineers. Learn how to save on energy costs by optimizing your facility flows that impact costs like compressed air, natural gas, steam, and hot or chilled water.