Efficient, flexible technologies will be needed to meet 100-percent renewable targets
WASHINGTON, D.C. -- In response to President Donald Trump's decision to take the United States out of the Paris climate accord, cities, states and corporations across the country have voiced their commitment to the agreement and to clean energy targets, in some cases as high as 100 percent.

But what does a 100-percent renewable energy target actually mean?
A large part of that 100-percent goal -- which journalists will want to explain to their readers -- will be the development and deployment of highly flexible, highly efficient distributed energy resources (DERs) that can provide benefits for customers and the grid.
Such technologies will be the focus on an upcoming webinar organized by the Smart Electric Power Alliance (SEPA) on "Stacking DER Values," 11 a.m. PST/2 p.m. EST, June 15, The webinar also offers a preview of some of the themes to be covered at SEPA's Grid Evolution Summit: A National Town Meeting, July 25-27 in Washington, D.C.
The webinar will feature two speakers scheduled to appear at the summit: Bud Vos, CEO of Enbala, and Scott Baker, Senior Business Solutions Analyst at PJM Interconnection.
Featured Product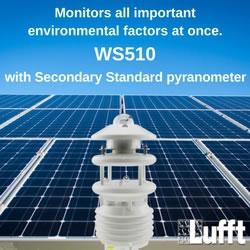 Professional weather sensors form the heart of large solar plants supporting their operation and performance. Lufft was the first manufacturer to combine several sensors in one housing, bringing the largest multiparameter weather sensor family with 19 members into being. Many of them are well-suited for solar site assessment and continuous monitoring. The most commonly used one is the WS600 delivering data on temperature, air pressure, wind, relative humidity and precipitation. Through its open protocol, it can easily be attached to radiation sensors e.g. from Kipp&Zonen. Other models have an integrated Silicon, Second Class or Secondary Standard radiation sensor.