The PV industrys most cost effective integrated Rapid Shutdown solution is now UL-approved.
Los Gatos, CA, June 12, 2017 - Tigo®, pioneer of the smart modular Flex MLPE platform, today announced Underwriters Laboratories (UL) has certified Tigo's UHD-Core TS4-S (Safety) for fully complying with National Electric Code (NEC) 690.12 Rapid Shutdown regulations. The TS4-S joins the UL Certified status of Tigo's TS4-L (Long Strings) and TS4-O (Optimization) announced last February; all products are currently shipping.

The UL Certification now applies to 600V, 1000V, and 1500V PV system designs with Tigos TS4 MLPE modular platform using any type of module with a maximum output power of 475W. The built-in automatic over voltage and over temperature protections continue to reduce liability and improve the safety of installers, customers, and first-responders in case of emergency.
"Tigo products are reliable and one of the best in the industry. With UHD-Core TS4-S certified with rigorous UL requirement, and fully complying with NEC 690.12 Rapid Shutdown regulations, it is further proof that their innovative technology enables the industry to move forward and meet the market demand. We congratulate them on their commitment to high standards," said Surinder S. Bedi, Executive Vice President for Global Quality & Reliability, System Products and Market Development at Sunpreme.
"Tigo's UL Certification enables our partners to meet NEC demands like module-level shutdown now, while also offering the most cost effective and flexibly designed systems on the market," said Zvi Alon, CEO of Tigo. "No other vendor can claim that."
To see Tigo's TS4 platform with a Sunpreme bifacial smart panel, visit Booth 8401 at Intersolar North America's Exhibition in San Francisco, CA on July 11-13, 2017.
Tigo is shipping its UL Certified UHD-Core offering worldwide as a module integrated, retrofitted, with optimization, or standalone (add-on) solution. For price and delivery call +1.408.402.0802 ext. 1, email sales@tigoenergy.com, or visit www.tigoenergy.com.
About Sunpreme Inc.
Headquartered in California, US, Sunpreme is a global solar photovoltaic company that designs, develops, and manufactures its innovative bifacial double glass panels utilizing a proprietary Hybrid Cell Technology (HCT), with efficiencies from 21.7% to 23.5%. These panels deliver the best cost performance value to clean-tech customers, worldwide. Sunpreme's Bifacial, Smart Solar Panels are among the world's most powerful, with STC outputs ranging from 310 to 510W before the bifacial boost, with superior product reliability and environmental stewardship. Sunpreme was ranked among the top three performers in the entire global PV market. It has won 7 of the top 10 rankings among thin-film PV products. Sunpreme solutions are deployed in 26 countries around the world. For more information, please visit www.sunpreme.com
About Tigo
Tigo is a Silicon Valley company founded in 2007 by a team of experienced technologists. Combining a unique systems-level approach with expertise in semi-conductors, power electronics, and solar energy, the Tigo team developed the first-generation Smart Module Optimizer technology for the solar industry. Tigo's vision is to leverage integrated and retrofitted Flex MLPE and communications technology to drive the cost of solar electricity down. By partnering with tier 1 module and inverter manufacturers in the industry, Tigo is able to focus on its key innovation with the smartest TS4 modular platform and leverage the broader ecosystem. Tigo has operations in the USA, across Europe, Latin America, Japan, China, Australia and the Middle East. Visit www.tigoenergy.com.
Featured Product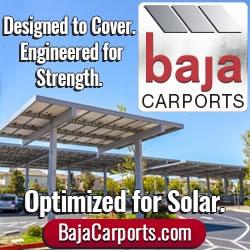 Baja Carports offers an extensive solar support system product line customized to customers' site specifications by in-house engineers, meeting their parking lot coverage, plus optimal PV production needs. Baja's Full Cantilever Tee is often paired with its Semi and Full Cantilever carports to meet live/loads up to 60psf and wind speeds to 160mph. All Baja products are pre-fabricated, bolted connections, pre-galvanized structural steel for fast on-site installation and project aesthetic requirements."