Battery Materials Company Exploring Partnerships with Consumer Device, Electric Vehicle and Battery Manufacturers in Japan
WOBURN, Mass.--(BUSINESS WIRE)--Ionic Materials, a battery materials technology company developing the worlds first practical solid electrolyte for longer lasting, lower cost and safer batteries, today announced its strategic initiatives in the Japanese market. Ionic Materials is currently exploring partnerships with consumer device, electric vehicle and battery manufacturers in Japan to bring its battery material to market. By eliminating the toxic and flammable liquid electrolyte in current lithium-ion batteries, the companys battery material is inherently safe and enables nonflammable batteries that will safely power the future.

Todays power requirements need safer, longer lasting and less expensive batteries. Batteries made with Ionic Materials solid polymer electrolyte can be folded, cut and damaged without burning and they continue to perform. The removal of the liquid also results in a more recyclable battery. In addition, Ionic Materials offers the most cost-effective solution because of its efficient, high-volume polymer processing techniques that simplify cell manufacturing and enables overall lower cost pack configurations. Ionic Materials polymer is an industry first in that, unlike other polymers available today, it is the only one that can function at room temperature, ensuring a practical solution for many applications. Its polymer allows for double the life of todays lithium-ion batteries, because, unlike liquid electrolytes, its material is compatible with many next-generation anodes and cathodes.
"The Japanese market is recognized as a leader in electric vehicles, consumer devices and batteries, but these industries are still burdened with using outdated lithium-ion technology and chemistries that dont offer the necessary energy capacity, safety or cost-effectiveness thats needed for todays products," said Mike Zimmerman, CEO of Ionic Materials. "We are now looking for the right strategic partners to scale and speed the production of our battery material and bring it to the Japanese market."
The global lithium-ion battery market size will surpass $53 billion by 2024, and renewable and grid storage applications will surpass $12 billion by 2024, according to Global Market Insights. This showcases the need for a safer, more cost-effective and higher energy density solution to meet market demand. Specifically in Japan, the lithium-ion battery market size is predicted to exceed $2 billion by 2024, and the region experienced over 150 percent growth in production in 2016, as compared to manufacturing volume in 2015.
The companys polymer platform technology enables a wide range of battery chemistries including lithium metal anodes, high voltage intercalation cathodes, sulfur conversion cathodes and a proprietary system that will revolutionize battery manufacturing. Ionic Materials battery material can be incorporated into existing cell manufacturing processes, and the company is now actively discussing potential partnerships with leading multi-national materials companies, battery manufacturers and device OEMs (EV and consumer electronics manufacturers) across the globe, including within Japan.
For more information on Ionic Materials battery material as well as partnering opportunities, visit http://ionicmaterials.com or email contact@ionicmaterials.com.
About Ionic Materials
Ionic Materials is a materials technology company that enables next-generation solid-state batteries. Its breakthrough polymer is the first solid electrolyte to fully function at room temperature and be compatible with multiple electrode chemistries to significantly improve battery safety, performance and cost. Developed by a world-class team of polymer scientists, Ionic Materials is headquartered in Woburn, MA. The company has been featured in renowned publications such as The New York Times, Bloomberg, Yahoo, The Washington Post, PBS and Forbes. For more information, please visit www.ionicmaterials.com, and follow us on Twitter.
Featured Product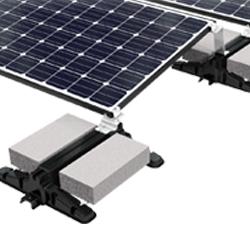 The Power Rail™ Commercial Mounting System is designed with the professional PV solar installer in mind. Both the XD/UD and LD/MD rails feature single tool assembly with the revolutionary patented RAD™ Lock-in-Place bolt for fast and secure module clamping. The high strength marine-grade aluminum rails include an integral wiring channel for securing cables and providing a professional finish.