InnoEnergy-backed HySiLabs, the on-demand hydrogen solutions venture, has appointed Jean-Paul Reich, Chief Scientific Officer (CSO) at ENGIE, the global electricity, natural gas and energy services operator, as an advisory board member. Reich joins the board at a crucial time ahead of HySiLabs' €2M funding round in summer to support its technology development for industry.
With over 30 years' experience in the energy field, Reich is a renowned French hydrogen expert and currently heads up hydrogen R&D at ENGIE. The appointment comes as a direct result of HySiLabs and ENGIE's involvement with InnoEnergy, having been introduced through Europe's largest sustainable energy accelerator's partner network, which provides start-ups with exclusive access to industry experts.

Reich says: "Hydrogen will play a vital role in the future of the energy mix and HySiLabs' technology has the potential to transform the market. I've watched HySiLabs' journey from the beginning and I'm looking forward to supporting it to take vital next steps to develop the technology for industry."
HySiLabs has developed an emission-free liquid hydrogen-carrier enabling hydrogen to be released on-demand, with no energy input required. The liquid hydrogen-carrier is safe, non-toxic, and enables the same logistics as conventional fuels.
Pierre-Emmanuel Casanova, President at HySiLabs, says: "It's a real coup to have such a prestigious figure in the hydrogen world join our board who recognises the potential of the technology. HySiLabs will benefit Reich's expertise to bring the technology to the industry. InnoEnergy made that happen. We've gone from strength to strength on its Highway programme and are excited to see how this funding round will propel our technology towards commercialisation."
Featured Product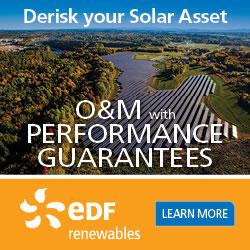 EDF Renewables offers the same innovative solutions that maximize the performance of our own 5.2 GW of installed projects. Because we're not an equipment manufacturer, our recommendations are transparent and data-driven. We cover the entire project lifecycle: from pre-commissioning support, through warranty and post warranty operation, to late stage and decommissioning.