OilPrice.com News Commentary
There are incredible opportunities available in Lithium right now. But most investors are getting it wrong. Demand for lithium is soaring thanks to battery demand. And interest in the industrial metal has never been higher. For companies including: Delphi Automotive PLC (NYSE: DLPH), Magna International Inc. (NYSE: MGA), Plug Power Inc. (NASDAQ: PLUG), Vale S.A. (NYSE: VALE), The AES Corporation (NYSE: AES)

But, before investing you must know this: Not all lithium is created equal.
Savvy lithium investors know that it's the quality of the lithium procured, not just the quantity that will mint the biggest fortunes. Unfortunately, most lithium miners are sitting on low-grade finds. Their investors will find out the hard way that higher production costs will greatly offset profits. Investing in lithium isn't as easy as investing in silver or gold as the commodity doesn't trade in the commodities or future market.
To participate in the lithium supply squeeze, investors have no choice but to buy shares of the explorers and producers. But to win big, they must be sure to buy the right ones. There's one company that appears to check all of the lithium boxes off. It's sitting on the highest-grade lithium brine resource in the world. Plus, it's about to double its land position in Chile, the most lithium rich area in the world.
And in July, Bearing Resources Ltd. (BRZ.V; BRGRF) plans to close the transaction to acquire the world's highest-grade undeveloped lithium project. Bearing Resources has already spent $7 million exploring the region. And shortly after the transaction closes, it will provide investors with a resource update. If Bearing Resources is anything like Alset Minerals Corp., when the news hits, Bearing Resources' stock price could soar. A year ago, Alset Minerals Corp. announced its own positive lithium assay news. In just a few short weeks, Alset Energy Corp.'s stock was trading up 515 percent! Investors who got in before the announcement made a killing.
With Bearing Resources, there's still time to catch the lithium train before it takes off again.
Here's why -
The Next Leg of the Lithium Boom
First, the lithium bonanza is only just the beginning. And lithium prices are already going parabolic. Lithium demand is up 77 percent since the financial crisis. The biggest reason is battery storage. The devices we use every day require it. Laptops, smartphones and electric cars all need lithium to keep their rechargeable batteries humming.
Solar power, including Tesla's Powerwalls, is also fanning the flames of lithium consumption. Everyone has hopped on the electric car bandwagon. And it's not just car companies like General Motors Company, Ford Motor Company or Tesla). Even Apple Inc. and Alphabet Inc. have entered the race leading Goldman Sachs to dub lithium the 'next gasoline'.
All of these advancements in consumer technology are driving lithium's growth. And lithium prices have benefitted greatly as supply has struggled to keep up with demand. Electric vehicles require the most lithium by far. Each EV needs 51 thousand to 63 thousand kilograms of lithium to power it. Tesla's Powerwalls need 10 thousand kilograms apiece. And laptops, cell phones and power tools all require lithium, too. Battery storage is also increasing. This allows EVs and consumer devices to run longer and faster between charges.
Today, the world's lithium-ion cell production isn't coming close to keeping up with demand. There is only enough to power 1 million electric vehicles. Analysts expect electric car sales to grow to 100 million by 2030. Today's production meets just 1 percent of the coming demand! Creating batteries with more storage requires even more lithium.
The world needs more lithium and soon. By 2025, the amount of lithium needed just for battery production will be twice the size of today's supply. A lithium shortage is on the horizon. And it's not just technology and car companies gobbling up this metal that some call 'white petroleum'. China is lining up its supplies, too. Chinese lithium-ion mega factories are expected to increase battery-making capacity by 6x current levels. And it is going to happen in less than three years. Soon, the Red Dragon's appetite for lithium will be huge. The country is moving fast to secure the lithium it needs to feed it.
Not surprisingly, China and its neighbor Korea are already getting in on the Lithium action. The countries' investors are in advanced talks to open a $2 billion lithium mega-factory. This factory would feed off of Chile's lithium riches. And it may be the beginning of China's lithium stock piling. As EVs go mainstream in China, the country will need vast stores of this precious metal.
The new Chinese factory will be competing directly with Tesla's new Nevada battery gigafactory. Both mega-plants will need huge quantities of lithium to make their batteries. A lithium bidding war could be on the horizon as the two facilities stockpile this essential manufacturing component.
Tesla's new facility began operations in January. And the euphoria surrounding lithium is heating up. The metal is fast becoming a hot commodity. And the main stage for this battle is Chile. That's because the lithium mined in Chile is the most desirable for Tesla and the rest of the top battery manufacturers. Chile has the lithium they want!
Chile: The Lithium Capital of the World
Chile is the lithium capital of the world, producing 37 percent of global lithium production. Some call it lithium's 'gold standard'. Nearly all of the world's lithium comes from four countries - Chile, Argentina, Australia and China.
In Australia and much of China, lithium has to be mined and then crushed to be extracted from rock using traditional mining techniques. But in the 'lithium triangle' stretching through Chile, Argentina and Bolivia, the process is much different. Lithium brine is pumped out of wells beneath the desert. The lithium is then evaporated out in manmade pools. Lithium brining is much cheaper than traditional hard-rock operations. Since the lithium is already isolated within the brine, the sun does all of the work.
What most investors don't know about lithium is that you can find lithium almost anywhere. But the difference in profitability depends on how much it costs to take it out. Even better, Chile's lithium is some of the highest grade found anywhere. It's two to four times higher than the lithium produced in Argentina. This makes Chilean lithium an even more valuable resource.
There are a vast number of products that can and are made from lithium. Lithium carbonate is used to make ceramics and glass as well as batteries. Lithium carbonate comes in a number of types. But only the high-grade material is used in battery manufacturing. High-grade lithium carbonate is priced at a premium. That's why Chile's high-grade resources are so important. It's the only kind of lithium battery makers like Tesla are trying to get their hands on.
It's no wonder that the world's largest lithium miners are in Chile. And Chilean miners have been the biggest winners of the lithium boom. In the last year, shares of Albemarle Corporation and Sociedad Quimica y Minera de Chile S.A. are up 53 percent and 73 percent respectively. But lithium makes up only a small part of these mining giants' businesses.
The real money in Chile was made in the 'pure play' lithium miner. Shares of LiCo Energy Metals Inc. climbed 291 percent! But the stock prices of lithium miners in Argentina didn't fare as well. Orocobre Ltd.'s stock price is down 10.5 percent in the last year. While Dajin Resources Corp. has seen its share price cut in half - down 54 percent!
When it comes to lithium investing, it's easy to see that high grade is truly more profitable. And Chile is where investors will make the most money off of the second lithium boom.
And one little-known miner is the best pick
While China, Tesla and more battle it out driving lithium prices higher, one little-known company will profit.
Bearing Resources Ltd. (BRZ.V; BRGRF) is closing on its newly acquired Maricunga Lithium Project in July. The project is located in the heart of Chile's lithium triangle. And it's right next door to the major lithium-mining giants' production facilities. More than $30 million has been invested in exploring the property so far. And Bearing Resources just completed the last $7 million exploration program. They drilled 18 holes and conducted pumping and float tests. Evaporation ponds and a weather station are in place.
Also in July, Bearing Resources plans to announce its updated lithium resource. The current resource is 600,000 tons. It's the highest grade undeveloped lithium project in the world with lithium at 1,250 parts per million. It's 2-4 times higher than any project grades found in Argentina.
We don't know how much larger the find will grow. But the amount of highest-grade lithium brine resource could be up to four times the current resource on the property. It is second in grade only to the Salar de Atacama, which accounts for 100 percent of Chile's lithium production and about 40 percent of global production. It's an exciting time for this $20 million market cap company. This company may be sitting on a once in a lifetime find. Bearing Resources investors could be rewarded handsomely.
Five Reasons to Invest in Bearing Resources Ltd. (BRZ.V; BRGRF) Today
1. Highest Grade of Lithium Seen Yet
When it comes to high-grade lithium, the 'Lithium Triangle' is the place to be. And Chile is in the sweet spot. Bearing Resources has seen some of the world's highest-grade results from the Maricunga Lithium Project so far. And July's resource update will show that there is a lot more of it. Maricunga is proving to be one of the best brine projects around. It's 2-4 times better than the lithium found in Argentina.
2. Lowest Lithium Mining Costs
Lithium brine is better than traditional lithium finds. That's because instead of having to physically extract the precious metal from hard rock, the sun does most of the work. Extracting lithium from brine can be up to 50 percent cheaper than from hard rock. It's essentially pricing hard rock lithium mining out of the market.
The Maricunga Lithium Project is adjacent to the International Highway. The project already has access to grid power. Build out costs are low. That means Bearing Resources can get their lithium to customers like Tesla faster. Bearing Resources is a front-runner and is poised to bring new lithium supplies online first.
3. Chile the World's Lithium Hub
Bearing Resources Ltd. (BRZ.V; BRGRF) lithium deposit is located in the heart of Chile - the lithium capital of the world. That's because when it comes to mining resources like lithium, the geology in the country is magical. Salt flats like those found in Chile, make up just 0.007 of the Earth's crust. Over the years, large-scale, low-grade projects have been abandoned. Today, miners and their investors favor low-CAPEX, high return projects. That's where Chile's lithium brine deposits come in. They are located in flat, arid areas. This makes setting up shop for exploration and extraction easier. It removes the expensive challenges associated with mining lithium in remote, mountainous areas.
Chile's dry desert climate is perfect for lithium extraction. Chile's government considers lithium a 'strategic resource', one which, until recently, the government had closely guarded. Chile has been hesitant to grant outside miners permits or concessions to extract lithium from its brine. But unlike other potential lithium miners in Chile, Bearing Resources already has its concessions and permits in place. Bearing Resources is just one of a handful of miners with government approval to mine lithium in the country. Competition is shut out from accessing the world's highest-grade lithium find.
4. A World-class Team with a Marketing Plan
And when production begins, Bearing Resources will have no problem finding lithium buyers. Its management team is stacked with all of the right people. They know how to bring new resource finds to the market.
Bearing President and CEO Jeremy Poirier has over a dozen years in the public markets. Most recently, he was a Co-founder and Director of Pure Energy Minerals Ltd. Poirier has already landed Pure Energy Minerals an agreement to supply Tesla with lithium. But with its gigafactory online, Tesla needs more of it. With the relationship already in place, Bearing Resources is a natural pick to fill the void.
Tesla is ramping up production at its gigafactory. The company is already ahead of schedule. And Tesla has announced it's making a Telsa-semi. It's expected to greatly reduce cargo and transport costs. The Tesla-semi is just one more piece of the energy revolution. The energy revolution is fueled by lithium.
More gigafactories are coming online soon in China. These battery facilities need more lithium, too. So Tesla is scrambling to secure its lithium supply. A lithium bidding war is coming. Prices of the 'white petroleum' are going higher.
5. A Transformative Announcement Coming in July
Bearing Resources Ltd. (BRZ.V; BRGRF) will close its acquisition of the Maricunga Lithium Project in just a few short weeks. Bearing Resources is positioned to become a major player among the major lithium suppliers. The 600,000 tons of lithium resource on the property is some of the highest grade any miner has ever seen. And in July, investors may find out Bearing resources has even more of it. The resource update may prove that the lithium brine below the salt flats is double, triple or even quadruple the original estimates.
The Right Company to Profit from the Lithium Boom
Most investors are playing the lithium boom wrong. And they could find their investment blowing up in their faces. Not all lithium is created equal. It's the high-grade lithium battery makers that Tesla and China crave. They cannot use low-grade lithium. Low-grade lithium miners have a limited sales channel. That's because their low-grade supplies cannot feed the real lithium frenzy - battery storage.
Bearing Resources Ltd. (BRZ.V; BRGRF) is sitting on one of the highest-grade lithium finds in history. Best of all, it has some of the lowest production costs in the industry. And Bearing Resources will have no problems selling it. CEO, Jeremy Poirier already has a relationship with one of the biggest lithium consumers - Tesla. And when Bearing Resources updated resource report is announced, other lithium buyers could soon be banging on Bearing Resources' door.
Today, high-grade lithium like Bearing Resources' 600,000 tons is selling for $9,100 a ton. Lithium demand growth is accelerating and outpacing growth in supply.
A squeeze is coming. Companies like Tesla and even China are already securing access to the 21st century's most precious metal. This $20 million company is sitting on the world's highest-grade source of undeveloped lithium. And 600,000 tons of lithium is just the start. The new resource report could show that Bearing Resources has 1.5 million to 2 million tons.
It's an exciting time for investors. Lithium is the future of energy. And Bearing Resources Ltd. (BRZ.V; BRGRF) is the future of lithium production. The lithium boom is worth billions. And Bearing Resources is in a great position to potentially capture a big part of it.
Here are 5 other companies in the space worth watching:
Delphi Automotive (NYSE: DLPH)
Delphi is a world-class supplier of technologies for the automotive and commercial vehicle market. Currently, Delphi is investing in driverless car technology and has successfully tested driverless vehicles. We like Delphi as a mid-term to long-term play as it is at the core of this breakthrough technology.
Magna International, Inc. (NYSE: MGA)
A division of this Ontario-based company, Magna E Systems, produces innovative complete-vehicle solutions and integrates components and systems for electric and hybrid cars. As the electric car boom continues, it will be a company to watch.
Plug Power Inc (NASDAQ: PLUG)
Plug Power Inc. is one of the most respected providers of alternative energy technology, Plug Power Inc. is a company to watch as energy storage tech continues to boom. This company's fuel cells will benefit hugely from ethical cobalt production, using cobalt as a replacement for platinum-activated catalysts which are far more expensive.
Vale SA (NYSE: VALE)
Being one of the largest producers outside of the Democratic Republic of Congo, this Brazilian mining giant produced over 5,200 tons of cobalt in 2016 from Canadian sites in Ontario, New Caledonia and Manitoba. We see Vale as one of the best run cobalt miners out there.
AES Corp. (NYSE: AES)
AES is one of the biggest names in energy storage, the major bottleneck in energy at this moment in time. Next to battery giants Tesla and Panasonic, we see AES as the most influential and innovative battery manufacturer
By Charles Kennedy
Legal Disclaimer/Disclosure from OilPrice.com: This piece is an advertorial and has been paid for. This document is not and should not be construed as an offer to sell or the solicitation of an offer to purchase or subscribe for any investment. No information in this Report should be construed as individualized investment advice. A licensed financial advisor should be consulted prior to making any investment decision. We make no guarantee, representation or warranty and accept no responsibility or liability as to its accuracy or completeness. Expressions of opinion are those of Oilprice.com only and are subject to change without notice. Oilprice.com assumes no warranty, liability or guarantee for the current relevance, correctness or completeness of any information provided within this Report and will not be held liable for the consequence of reliance upon any opinion or statement contained herein or any omission. Furthermore, we assume no liability for any direct or indirect loss or damage or, in particular, for lost profit, which you may incur as a result of the use and existence of the information, provided within this Report. All content contained herein is subject to the terms and conditions set forth in the original article posted on Oilprice.com and subject to the terms and conditions therein.
DISCLAIMER: OilPrice.com is Source of all content listed above. FN Media Group, LLC (FNM), is a third party publisher and news dissemination service provider, which disseminates electronic information through multiple online media channels. FNM is NOT affiliated in any manner with OilPrice.com or any company mentioned herein. The commentary, views and opinions expressed in this release by OilPrice.com are solely those of OilPrice.com and are not shared by and do not reflect in any manner the views or opinions of FNM. FNM is not liable for any investment decisions by its readers or subscribers. FNM and its affiliated companies are a news dissemination and financial marketing solutions provider and are NOT a registered broker/dealer/analyst/adviser, holds no investment licenses and may NOT sell, offer to sell or offer to buy any security. FNM was not compensated by any public company mentioned herein to disseminate this press release.
FNM HOLDS NO SHARES OF ANY COMPANY NAMED IN THIS RELEASE.
This release contains "forward-looking statements" within the meaning of Section 27A of the Securities Act of 1933, as amended, and Section 21E the Securities Exchange Act of 1934, as amended and such forward-looking statements are made pursuant to the safe harbor provisions of the Private Securities Litigation Reform Act of 1995. "Forward-looking statements" describe future expectations, plans, results, or strategies and are generally preceded by words such as "may", "future", "plan" or "planned", "will" or "should", "expected," "anticipates", "draft", "eventually" or "projected". You are cautioned that such statements are subject to a multitude of risks and uncertainties that could cause future circumstances, events, or results to differ materially from those projected in the forward-looking statements, including the risks that actual results may differ materially from those projected in the forward-looking statements as a result of various factors, and other risks identified in a company's annual report on Form 10-K or 10-KSB and other filings made by such company with the Securities and Exchange Commission. You should consider these factors in evaluating the forward-looking statements included herein, and not place undue reliance on such statements. The forward-looking statements in this release are made as of the date hereof and FNM undertakes no obligation to update such statements.
Featured Product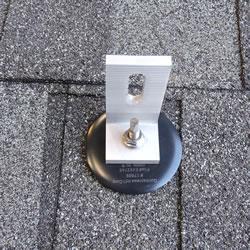 SolarRoofHook's Low Profile QuickBOLT with Microflashing™ is the industry's affordable, UL Certified Asphalt Shingle mounting system. The Microflashing™ is compressed by the collar on the bolt to create a water-tight seal. With an installation time of less than one minute, the Low Profile QuickBOLT allows installers to complete more jobs.