Smappee Plus provides real-time, appliance-level data through intelligent submetering; offers consumers greater insight into energy use and production
Smappee, a leading developer of smart energy monitoring solutions, has entered the U.S. solar market with the launch of its flagship product, Smappee Plus. The most advanced energy monitoring system available on the market, Smappee Plus empowers consumers to better manage their electricity use and costs by providing detailed, real-time measurements of their energy production and consumption.

Smappee Plus is the latest innovation from Smappees bourgeoning suite of energy monitoring solutions, which have seen widespread adoption across Europe since 2013. The product integrates Smappees patented NILM (Non Intrusive Load Monitoring) technology with submetering clamps to measure real-time energy use from household electronics and appliances, providing consumers with an unprecedented level of insight into their personal energy use.
Ideally suited for homes with solar and other renewable technologies, Smappee Plus acts as an energy traffic controller by directing the energy flow within a users home to maximize both energy efficiency and clean energy payback.
As an increasing number of homes become "smart" featuring multiple energy installations such as solar, heat pumps and batteries, Smappee Plus has been designed for the modern smart home, and is ready for peer-to-peer energy trading on smart grids using blockchain technology.
"Smappee Plus has been developed to become the new standard in home energy monitoring," stated Stefan Grosjean, CEO of Smappee. "With the European Commission recently forecasting that 68 million homes in Europe and the U.S. will be smart homes by 2019, consumers increasingly require a more intelligent, reliable means to monitor their energy. Weve designed Smappee Plus to be a central energy hub, monitoring and managing the various energy flows of the present and future smart home."
The Smappee Plus costs $549 (excl taxes and installation) and will be sold exclusively to solar distributors and installers. The company aims to address the recurring issue of high customer acquisition costs by offering installers and distributors a value-add monitoring system that allows them to re-engage with existing and potential customers. Smappee Plus also provides solar professionals with a direct route into the growing smart home market with a superior differentiated product that sets them apart in an increasingly competitive solar market.
Smappee will be showcasing Smappee Plus at the Impress Lounge during Intersolar North America, taking place July 11-13 at San Franciscos Moscone Center.
About Smappee
Smappee develops innovative solutions that foster sustainable energy consumption. Its smart monitors analyze the use of solar energy, gas, water and electricity - Smappee were the first ones to track electricity consumption down to the appliance level for all important devices. Users get insights via itemized bills and discover their energy consumption, energy guzzlers, standby power, etc. in real-time, anytime and anywhere via the Smappee app. The Smappee Comfort Plugs and partnerships with third-party IOT solutions empower consumers to turn their house into a smarter and better home. The professional version offers SMEs and multi-sites real-time data on one or multiple sites using the same easy installation and user-friendly app as the consumer version. Smappee envisions to change its users energy habits by making saving energy fun and to reduce their energy consumption without compromising on comfort. This ensures that both the user and the environment benefit from Smappees efficiency solutions. The company was founded in 2012 by Hans Delabie and Stefan Grosjean, advocate for renewable energy and energy efficiency, international expert in smart grids and energy management and founder of EnergyICT (now part of Honeywell). Smappee has been award-winning ever since. Smappee is headquartered in Kortrijk, Belgium, and offers its solutions in 85 countries worldwide. For more information, visit www.smappee.com
Media contact
Nick Richardson
Impress Labs (for Smappee)
+1 480 409 0775
nick@impresslabs.com
Company contact
Jean-Claude Junqua
+1 408 771 6293
Jc.junqua@smappee.com
Featured Product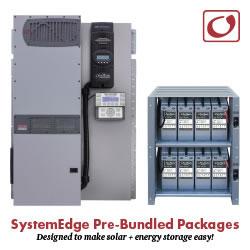 Each pre-bundled package is designed to make solar plus energy storage easy. By combining OutBack's most popular FLEXpower pre-wired systems with matched OutBack energy storage, SystemEdge takes the guesswork out of installing solar plus storage. Every SystemEdge package includes a FLEXpower factory pre-wired system, application-specific EnergyCell batteries and racking, FLEXware ICS Plus combiner and all the necessary connection hardware.