The University's Second SunPower Project on Campus to Support its Zero Net Energy by 2020 Goal
SAN JOSE, Calif., June 26, 2017 /PRNewswire/ -- The University of California, Merced's precedent-setting Triple Zero Commitment aims for zero net energy use, the creation of zero net landfill waste and climate neutrality on campus by 2020, a goal that coincides with the university's expansion project to nearly double the campus's physical capacity by that same year.

In support of UC Merced's goals, the university is working with SunPower Corp. (NASDAQ: SPWR) to install a 5-megawatt solar power system featuring a carport-and-rooftop installation, complemented by a 500-kilowatt energy storage solution from Stem.
"UC Merced is a sustainability leader in higher education, and we are committed to supporting economic, socially responsible and environmentally conscious initiatives," said Colleen McCormick, the university's director of sustainability. "We have always set ambitious goals for sustainability in our campus construction and operations, and this partnership with SunPower will help us reach those goals."
The system will be UC Merced's second featuring SunPower® solar technology. A 1-megawatt ground-mounted tracker system has been in operation and exceeding performance expectations since 2009, and the two systems combined are expected to supply more than 50 percent of the campus's energy needs. UC Merced will own the renewable energy credits (RECs) associated with the new solar energy system, which is estimated to generate clean electricity equal to removing approximately 30,000 cars from the road every year for 25 years.
The 5-megawatt photovoltaic system and 500-kilowatt battery storage system will be financed by a power purchase agreement (PPA). In addition to energy cost savings from solar production, adding Stem's software-driven energy storage positions UC Merced to achieve significant demand charge savings over the first 10 years of the project.
"It's an honor to help customers like UC Merced get closer to their sustainability goals with SunPower's dependable solar solutions," said Nam Nguyen, SunPower executive vice president. "With a well-regarded reputation for delivering high-efficiency, cost effective solar solutions to schools and higher education facilities nationwide, SunPower looks forward to helping UC Merced achieve the economic and environmental value that SunPower's quality solar and storage solution enables."
SunPower has long been a solar partner with the University of California system given the company's extensive experience delivering innovative energy solutions to higher education customers. SunPower is responsible for more than 70 percent of solar under construction or operating at University of California facilities, which include systems in Berkeley, Davis, Riverside and Santa Barbara.
Attendees at this year's California Higher Education Sustainability Conference (CHESC) in Santa Barbara can visit SunPower at Booth 16 to learn more about the benefits of solar for schools.
About University of California, Merced
UC Merced opened in 2005 as the newest campus in the University of California system and the first American research university built in the 21st century. The campus enjoys a special connection with nearby Yosemite National Park, is on the cutting edge of sustainability in construction and design, and supports highly qualified first-generation and underserved students from the San Joaquin Valley and throughout California. The Merced 2020 Project, a $1.3 billion public-private partnership that is unprecedented in higher education, will nearly double the physical capacity of the campus and support enrollment growth to 10,000 students.
About Stem, Inc.
Stem creates innovative technology services that transform the way energy is distributed and consumed. The company's mission is to build and operate the largest digitally connected energy storage network for our customers. Our world class analytics optimize the value of customers' energy assets and facilitate their participation in energy markets, yielding economic and societal benefits while decarbonizing the grid. Headquartered in Millbrae, California, Stem is funded by a consortium of leading investors including Angeleno Group, Iberdrola (Inversiones Financieras Perseo), GE Ventures, Constellation Technology Ventures, Total Energy Ventures, Mitsui & Co. LTD., RWE Supply & Trading, and Mithril Capital Management. Visit www.stem.com for more information.
About SunPower
With more than 30 years of proven experience, SunPower is a global leader in solar innovation and sustainability. Our unique approach emphasizes the seamless integration of advanced SunPower technologies, delivering The Power of One® complete solar solutions and lasting customer value. SunPower provides outstanding service and impressive electricity cost savings for residential, commercial and power plant customers. At SunPower, we are passionately committed to changing the way our world is powered. And as we continue shaping the future of Smart Energy, we are guided by our legacy of innovation, optimism, perseverance and integrity. Headquartered in Silicon Valley, SunPower has dedicated, customer-focused employees in Africa, Asia, Australia, Europe, North America and South America. Since 2011, we've been majority-owned by Total, the fourth largest publicly-listed energy company in the world. For more information, visit www.sunpower.com.
Featured Product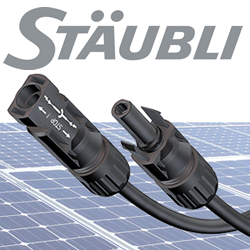 ​Stäubli Electrical Connectors are used on more than 300 GW, over 50% of the PV capacity worldwide. The MC4 family of UL and TUV listed products include connectors, in-line fuses, branch connectors, cable assembly and more.