NREL Director, UtilityAPI and Policy/DER Consulting Executives to Join CALSEIA and Champion of Change Honoree Richard Kauffman in Opening Ceremony
SAN FRANCISCO, June 28, 2017 - Dr. Martin Keller, director of the National Renewable Energy Laboratory (NREL), Elena Lucas, entrepreneur, co-founder and chief executive officer of UtilityAPI, and John Wellinghoff, principal of Policy/DER Consulting, will deliver the keynote addresses at the Opening Ceremony for Intersolar North America, the solar industrys premier exhibition and conference dedicated to the North American market, and ees North America, the exhibition and conference dedicated to the energy storage market.

The Opening Ceremony will be held Monday, July 10 at 5:30 P.M. in the Grand Ballroom at the InterContinental Hotel. The session will welcome visitors to Intersolars tenth annual event in San Francisco and the third annual ees North America, and is free to all ticketed attendees.
As one of best-attended sessions of Intersolar North America, the Opening Ceremony provides attendees with an overview of the recent success of the solar industry, as well as challenges it faces as it continues to grow. The high-profile line-up of key solar policymakers, advocates and executives represents a variety of industry expertise:
• Dr. Martin Keller, who was named NREL director in 2015, has served in a variety of research management positions, and was responsible for the energy, biological, and environmental research programs at the Oak Ridge National Laboratory, supported by DOE, the Environmental Protection Agency and the National Institutes of Health.
• Elena Lucas is co-founder and CEO of UtilityAPI, which is automating the process of authorizing, collecting, and cleaning electricity data from utilities. The company is the recipient of a U.S. Department of Energy SunShot grant award, a national initiative to drive down the cost of solar electricity and support solar adoption. Lucas is also on the board of Women in Cleantech and Sustainability, and co-chair of the finance committee.
• John Wellinghoff is a principal at Policy/DER Consulting, which focuses on the intersection of energy policy and the deployment of distributed energy resource technology. He received two Presidential appointments to serve as a Commissioner on the Federal Energy Regulatory Commission (FERC) for a total of seven years. While at FERC, he led efforts to make the U.S. power grid cleaner and more efficient by promoting and integrating renewable energy, demand response, energy efficiency and storage.
• Richard L. Kauffman is New Yorks chairman of energy and finance, who oversees and manages the states energy portfolio in its entirety. He led the development of New Yorks Reforming the Energy Vision (REV) initiative supported by New York Governor Andrew Cuomos office in an effort to restructure the states energy industry over the next 10 years. As part of that project, he supported the organization of the $5.3 billion Clean Energy Fund (CEF) to grow innovation programming and economic development in the state.
Joining the three keynote speakers will be Prof. Dr. Eicke R. Weber, director of the Berkeley Education Alliance for Research in Singapore (BEARS), a University of California center for research, graduate education, and innovation, who will deliver welcoming remarks along with Bernadette Del Chiaro, executive director of the California Solar Energy Industries Association (CALSEIA). Del Chiaro will also present Kauffman, chairman of Energy and Finance for New York and known as the "new energy czar," with this years Champion of Change Award. The recognition honors individuals who have demonstrated a strong commitment to supporting the development of renewable energy at a national or international level.
Largest-Ever Solar Summerfest Celebrates 40 Years of CALSEIA
This year, longtime Intersolar North America partner California Solar Energy Industries Association (CALSEIA) will mark 40 years of service to the Californian solar community. In collaboration with SEMICON West and ees North America, Intersolar and CALSEIA will host Californias biggest-ever solar industry networking event, Solar Summerfest 2017, at AT&T Park, home of San Franciscos major league baseball team. All proceeds from Solar Summerfest will help CALSEIA realize its goal of expanding the use of all solar and energy storage technologies in California, and establish a sustainable industry for a clean energy future. As CALSEIAs largest donor, the Intersolar fundraising partnership has generated more than $1 million for the organization since 2012. In 2016 alone, proceeds from Solar Summerfest resulted in a donation by Intersolar of more than $350,000 to CALSEIA to further promote solar and energy storage use.
On Tuesday, July 11 the event will be open from 5 P.M. to 10 P.M. at AT&T Park for an estimated 2,000 solar and energy storage professionals. Attendees will be able to watch the MLB All-Star Game live on the jumbotron, and explore the stadium on company-sponsored tours of AT&T Park. There will be special use of the batting cages, custom photo booth baseball trading cards, hosted food and drink stations, and much more. Additional information, including event details and registration, is available online.
WRISE and Shine Breakfast Celebrates Women Employed in Renewables
New to the variety of networking events at Intersolar/ees North America is WRISE and Shine! at Intersolar, hosted by Women of Renewable Industries and Sustainable Energy (WRISE), a non-profit organization that promotes the education, professional development and advancement of women across the renewables sector. WRISE recently broadened its scope to include solar, energy storage, efficiency, distributed generation and smart grid technologies—everything directly or indirectly related to a robust renewable energy economy.
Hosted in partnership with Intersolar North America, Westwood Professional Services and WRISE, this breakfast event will provide attendees an opportunity to connect with others across the solar and energy storage industries. The event is scheduled for Wednesday, July 12 from 9 to 10:30 AM at the EnSync Energy booth (#L8003). Online registration is required, and is open to everyone.
Featured Product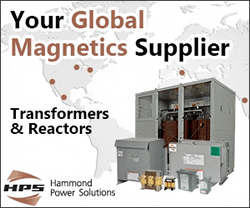 HPS is the largest manufacturer of dry-type transformers in North America. We engineer and manufacture a wide range of standard and custom transformers that are exported globally in electrical equipment and systems. We support solid industries such as oil and gas, mining, steel, waste and water treatment, and wind power generation. HPS leads the industry in these markets through its technical design strength, breadth of product, and manufacturing capabilities, making HPS a stronger company both fundamentally and financially.