Hybrid and electric vehicles are becoming an increasingly important application for electric motors worldwide. This evolution in the CWIEME community was reflected on many of the stands at this year's exhibition, as well as in the seminar programme.
The growing use of electric motors in the automotive sector - namely for hybrid (HEV) and electric vehicles (EV) - has presented many opportunities for the CWIEME community. This new and growing application was discussed widely in the halls, as well as in workshops and seminars at the exhibition.

At this years show, CWIEME introduced a series of small-group tutorials to help fill specific knowledge gaps. One such tutorial by Dr. David Staton and James Goss of Motor Design Limited looked at well-known designs for EV traction, such as the Leaf, Tesla, Prius, Volt and Accord. Using open source information, the tutorial analysed these designs both electromagnetically and thermally to evaluate and compare continuous and peak torque/speed characteristics; performance over duty cycles; and efficiency maps, including AC winding loss and complex heat transfer paths.
A particular highlight of the CWIEME Central seminar programme on Wednesday 21st June, however, was a session from Professor David Greenwood, head of advanced propulsion systems at the University of Warwick. Professor Greenwoods seminar aimed to link academia with industry and provided a context for many of the EV design trends discussed at CWIEME Berlin this year.
"Professor Greenwoods session was very well received by the audience. In the CWIEME Central theatre there was standing room only!" says Chloe Theobald, content manager for the CWIEME exhibition series.
Following Professor Greenwood, Dr. Alex Michaelides, senior technical specialist in e-machines and power electronics at Jaguar Land Rover took to the stage to provide an automotive manufacturers perspective on the various options open to electric motor designers, including motor type, design and location. He explained how at Jaguar Land Rover these choices are often determined by customers differing expectations from the two brands - high-speed sedan cars versus all-terrain vehicles. To illustrate this point, Dr. Michaelides briefly presented the Jaguar I-PACE concept vehicle and the Land Rover Game Viewer used at the Eden Project in the UK and the Londolozi Game Park in South Africa.
Professor Omar Hegazy from the MOBI Research Centre at the University of Brussels, meanwhile, discussed electric powertrain design and charging solutions for somewhat larger vehicles, namely electric buses. Professor Hegazy presented his organisations proposal to the city of Brussels for three electric bus lines, two with overnight charging and one with overhead charging. His colleague Professor Coosemans also discussed charging infrastructures for cars. Studies carried out in Belgium by the MOBI Research Centre revealed that cars are moving for only 10% of the time and are mostly located at home. However, only 10% of Brussels residents have a garage, meaning that the majority of EV users in the city would have to rely on street charging infrastructures. There are currently around 100 public fast charging points in Belgium, mostly in the Brussels-Antwerp area. Using heat maps of these points, MOBI is working on a proposal for charging point planning and deployment. In the far future, MOBI envisages dynamic inductive charging lanes on roads.
Specialist EV electrical steels
On the stands, visitors became acquainted with many new products tailored to e-mobility. ArcelorMittal, for example, launched the second generation of its iCARe® electrical steels, specifically to meet the requirements of EVs. The advantages are increased efficiency at all performance levels, greater strength, lower temperatures, improved magnetic properties and improved power density, which ultimately result in an a greater driving range.
"The main challenge today continues to be the limited distance over which an electric car can be driven," said Sigrid Jacobs, worldwide development director for ArcelorMittals electrical steels. "That is why we support manufacturers of drive systems in their efforts to develop more efficient and better-performing motors by using improved materials like the new iCARe® steels."
Featured Product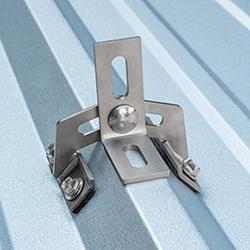 SolarRoofHook's Low Profile QuickBOLT with Microflashing™ is the industry's affordable, UL Certified Asphalt Shingle mounting system. The Microflashing™ is compressed by the collar on the bolt to create a water-tight seal. With an installation time of less than one minute, the Low Profile QuickBOLT allows installers to complete more jobs.