All SolarEdge DC optimized inverters in the US offer smart inverter functionality for Rule 21 grid support
FREMONT, CA — July 6, 2017 — SolarEdge Technologies, Inc. ("SolarEdge") (NASDAQ: SEDG), a global leader in PV inverters, power optimizers, and module-level monitoring services, today announced that all of its single-phase and three-phase inverters are certified to comply with UL 1741 SA as outlined in CPUC Rule 21. As of now, all SolarEdge inverters purchased in the US are certified as smart inverters per the code that is expected to go into effect in September 2017.

"By certifying our entire inverter product line in advance of the implementation of CPUC Rule 21, our installers can continue to order products and be assured of a continuous supply, full stocking, and uninterrupted installation schedules," stated Peter Mathews, General Manager North America. "This is part of our commitment to offer innovative and cost-effective PV solutions that provide value to distributors, installers, and end users."
By meeting these advanced inverter requirements, SolarEdges DC optimized inverters enable utilities to integrate increased levels of PV generation. Every SolarEdge inverter will be labeled for compliance as a "Grid Support Utility Interactive Inverter" and will provide smart inverter features to PV system owners and utilities.
The UL 1741 SA certification ensures that inverters stay online and adapt their output to stabilize the grid during abnormal operation instead of disconnecting. This functionality allows improved grid resiliency and increased PV integration. Certified smart inverters offer anti-islanding protection, grid support functions, low and high voltage and frequency ride through, voltage variation mode, power factor control, power ramp-up during startup and normal operation, remote powering and curtailment, and frequency-watt and voltage-watt control.
About SolarEdge Technologies
SolarEdge provides an intelligent inverter solution that has changed the way power is harvested and managed in solar photovoltaic systems. The SolarEdge DC optimized inverter system maximizes power generation at the individual PV module-level while lowering the cost of energy produced by the solar PV system. Supporting increased PV proliferation, the SolarEdge system consists of power optimizers, inverters, home energy management, storage solutions, and a cloud-based monitoring platform. SolarEdges solutions addresses a broad range of solar market segments, from residential solar installations to commercial and small utility-scale solar installations. SolarEdge is online at http://www.solaredge.us
Featured Product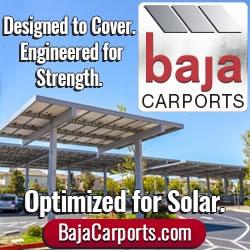 Baja Carports offers an extensive solar support system product line customized to customers' site specifications by in-house engineers, meeting their parking lot coverage, plus optimal PV production needs. Baja's Full Cantilever Tee is often paired with its Semi and Full Cantilever carports to meet live/loads up to 60psf and wind speeds to 160mph. All Baja products are pre-fabricated, bolted connections, pre-galvanized structural steel for fast on-site installation and project aesthetic requirements."