Legislators pass final-hour moratorium that will kill opportunity for economic growth
RALEIGH, N.C., July 6, 2017 — Acting against the interest of North Carolina job-seekers and businesses, last week state legislators placed a moratorium on new wind farm permits through 2018. The last-minute amendment to H 589, a wide ranging energy bill, will stop North Carolina from harvesting more homegrown wind power. The bill now awaits a final decision from North Carolina Governor Roy Cooper.

"Were calling on Governor Cooper to veto this bill due to the unnecessary, anti-business regulation slipped in at the final moment. If the bill stands, it will cast a shadow on North Carolina, a state currently on the leading edge of wind energy development in the Southeast," said Andrew Gohn, Eastern Region Policy Director for the American Wind Energy Association (AWEA). "North Carolina had just made a big step forward completing its first major wind energy project, one of the very first in the Southeast, bringing jobs and millions in private investment with it. Other North Carolina wind projects are close behind, but this moratorium will send their investment to other states who welcome economic growth."
Supporters of the moratorium on wind development mistakenly claim it is needed to "consider the impact of future wind energy facilities and energy infrastructure on military operations, training, and readiness." In reality, there is an existing Department of Defense (DOD) process to evaluate, and if necessary, block wind farms. That process was strengthened in the FY17 National Defense Authorization Act (NDAA).
"Over 53,000 wind turbines are in operation in 40 other U.S. states - some in close proximity to military bases - with no issues reported, no base missions harmed, and national security protected," said Gohn. "The current Department of Defense wind project review process works. As a result, no wind project has ever been built over the objection of the Department of Defense."
"Wind power is the leading source of American renewable energy capacity, making our nation more self-reliant and secure," Gohn added. "The wind industry supports American servicemen and servicewomen at home and abroad. In fact, the wind industry employs veterans at a rate 50 percent higher than the national average. Unfortunately, passing laws like this one hurts, rather than helps, our national security and energy independence."
North Carolina recently became the 41st state to host a utility-scale wind project. Though wind development is just getting started in North Carolina, the industry already employs close to 2,000 Americans in the state with 26 active factories supplying the wind industry. Across the U.S. wind power employs more than 100,000 Americans and added jobs over 9 times faster than the overall economy in 2016.
AWEA is the national trade association of the U.S. wind energy industry. We represent 1,000 member companies and over 100,000 jobs in the U.S. economy, serving as a powerful voice for how wind works for America. Members include global leaders in wind power and energy development, turbine manufacturing, and component and service suppliers. They gather each year at the Western Hemispheres largest wind power trade show, the AWEA WINDPOWER Conference & Exhibition, next in Chicago, May 7-10, 2018. Find information about wind energy on the AWEA website. Gain insight into industry issues on AWEA's blog, Into the Wind. And please join us on Facebook, and follow @AWEA on Twitter.
Featured Product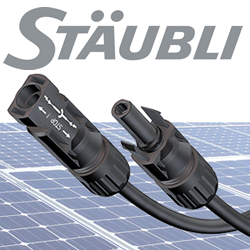 ​Stäubli Electrical Connectors are used on more than 300 GW, over 50% of the PV capacity worldwide. The MC4 family of UL and TUV listed products include connectors, in-line fuses, branch connectors, cable assembly and more.