Major investor has agreed to purchase the 122-kilowatt project to be installed at nonprofit's service center
MILWAUKEE, July 10, 2017 -- EnSync, Inc. (NYSE MKT: ESNC), dba EnSync Energy Systems, a leading developer of innovative distributed energy resource (DER) systems and Internet of Energy (IOE) control platforms, today announced the sale of the 20-year power purchase agreement (PPA) that the company entered into with Easter Seals Hawaii, a nonprofit organization that provides services for people with disabilities and special needs. The PPA is for a 122-kilowatt solar panel installation at the nonprofit's Kapolei Napuakea Service Center.

The undisclosed investor's purchase of EnSync Energy's PPA will enable Easter Seals Hawaii to save on electricity costs. Under the new PPA, EnSync Energy will continue to manage construction and operations, as well as maintenance of the ground-mount system, while the investor provides long-term ownership.
"EnSync Energy and our local subsidiary, Holu Energy, are at the forefront of developing distributed energy projects that deliver both savings and reliability to our commercial and industrial customers," said Brad Hansen, CEO and president of EnSync Energy. "We are incredibly proud to help Easter Seals lower its electricity bill, and we plan to continue to support other organizations that are benefiting the Hawaiian region."
"Easter Seals is thrilled to harness the abundant sunshine here, using it to benefit our environment and bring down costs," said Ron Brandvold, CEO of Easter Seals Hawaii. "We appreciate being able to manage costs whenever and wherever it's feasible so that we can allocate even more funds towards our services for those with special needs, and EnSync Energy has made that possible."
EnSync Energy contracted PhotonWorks Engineering, a Hawaii-based development, construction and renewable energy company, to build the solar project, which was uniquely designed to provide long-term energy savings to Easter Seals. This project is in an advanced stage of development with construction targeted for completion by the end of 2017. EnSync Energy currently has 19 projects in Hawaii that are operational, under construction or have been contracted.
About EnSync Energy Systems
EnSync, Inc. (NYSE MKT: ESNC), dba EnSync Energy Systems, is creating the future of electricity with innovative distributed energy resource (DER) systems and internet of energy (IOE) control platforms. EnSync Energy ensures the most cost-effective and resilient electricity, delivered from an electrical infrastructure that prioritizes the use of all available resources, such as renewables, energy storage and the utility grid. As project developer, EnSync Energy's distinctive engagement methodology encompasses load analysis, system design consulting, and technical and financial modeling to ensure energy systems are sized and optimized to meet our customers' objectives for value and performance. Proprietary direct current (DC) power control hardware, energy management software, and extensive experience with numerous energy storage technologies uniquely positions EnSync Energy to deliver fully integrated systems that provide for efficient design, procurement, commissioning, and ongoing operation. EnSync Energy's IOE control platform adapts easily to ever-changing generation and load variables, as well as changes in utility prices and programs, ensuring the means to make or save money behind-the-meter, while concurrently providing utilities the opportunity to use DERs for an array of grid enhancing services. In addition to direct system sales, EnSync Energy includes power purchase agreements (PPAs) in its portfolio of offerings, which enables electricity savings for customers and provides a stable financial yield for investors. EnSync Energy is a global corporation, with joint venture Meineng Energy in AnHui, China, and energy project development subsidiary Holu Energy in Hawaii. For more information, visit www.ensync.com.
Safe Harbor Statement
Certain statements made in this press release contain forward-looking statements within the meaning of Section 27A of the Securities Act of 1933, as amended, and Section 21E of the Securities Exchange Act of 1934, as amended that are intended to be covered by the "safe harbor" created by those sections. Forward-looking statements, which are based on certain assumptions and describe our future plans, strategies and expectations, can generally be identified by the use of forward-looking terms such as "believe," "expect," "may," "will," "should," "could," "seek," "intend," "plan," "estimate," "anticipate" or other comparable terms. Forward-looking statements in this press release may address the following subjects among others: project completion timelines, our ability to monetize our PPA assets, statements regarding the sufficiency of our capital resources, expected operating losses, expected revenues, expected expenses and our expectations concerning our business strategy. Forward-looking statements involve inherent risks and uncertainties which could cause actual results to differ materially from those in the forward-looking statements, as a result of various factors including those risks and uncertainties described in the Risk Factors and in Management's Discussion and Analysis of Financial Condition and Results of Operations sections of our most recently filed Annual Report on Form 10-K and our subsequently filed Quarterly Reports on Form 10-Q. We urge you to consider those risks and uncertainties in evaluating our forward-looking statements. We caution readers not to place undue reliance upon any such forward-looking statements, which speak only as of the date made. Except as otherwise required by the federal securities laws, we disclaim any obligation or undertaking to publicly release any updates or revisions to any forward-looking statement contained herein (or elsewhere) to reflect any change in our expectations with regard thereto or any change in events, conditions or circumstances on which any such statement is based.
Media Relations Contact:
Antenna
Shreema Mehta
ensync@antennagroup.com
(646) 416-9853
Investor Relations Contact:
Lytham Partners, LLC
Robert Blum, Joseph Diaz, or Joe Dorame
(602) 889-9700
EnSync Energy Company Contact:
Michelle Montague
mmontague@ensync.com
(262) 735-5676
SOURCE EnSync Energy Systems
Featured Product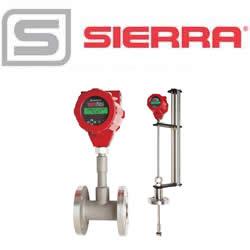 Sierra was the first to introduce a combination volumetric vortex and multivariable mass flow meter in 1997. Today, Sierra's completely redesigned InnovaMass® iSeries™ 240i/241i builds on two decades of success measuring five process variables for gas, liquid and steam with one connection. Now, with the latest hyper-fast microprocessors, robust software applications, field diagnostic and adjustment capability, and a new state-of-the-art flow calibration facility, Sierra's vortex iSeries delivers precision, performance, and application flexibility never before possible.