Globally recognized leaders will collaborate on structural and electrical BOS solutions for utility-scale solar
ALBUQUERQUE, N.M., July 10, 2017 /PRNewswire/ -- Array Technologies, the world's leader in reliable solar tracking, and Shoals Technologies Group, the leading solar electrical balance of systems (BOS) provider, today announced plans to collaborate on structural and electrical Balance of System (BOS) solutions for utility-scale solar. This relationship will leverage the complementary nature of Array's trackers and Shoals' electrical BOS solutions. The integration of offerings will result in improved performance and stronger economics for project developers and asset owners, and higher efficiencies for engineering, procurement, and construction (EPC) companies.

The future of the solar industry will be driven by innovation, optimization and efficiency. Array and Shoals will draw on each company's expertise, developed through nearly 50 years of combined solar operations, to tailor integrated solutions that further the evolution of the solar power plant.
"Array is thrilled about working with Shoals. Together, as BOS leaders in the market, we are in a unique position to innovate and advance unrivaled, integrated system solutions. We see tremendous opportunity to bring cost effective, optimized, and reliable collaborative offerings to the market. Our customers will greatly benefit from a new standard of seamless Balance of System solutions," said Ron Corio, founder and CEO of Array Technologies.
Dean Solon, founder and CEO of Shoals, added, "Shoals has been designing electrical BOS for the Array tracker for years, and we are looking forward to a fresh approach on system integration with Ron and the Array team. The synergy between our two companies is unprecedented. We have no doubt that the collaborative effort of our two teams will result in a BOS solution that will offer efficiencies never before seen in the solar market. We are excited to be able to participate in this arena and look forward to offering these electrical BOS solutions to current and future customers."
Both Array Technologies and Shoals will have a prominent presence at the upcoming Intersolar North America exhibition & conference in San Francisco. Array's DuraTrack® HZ v3 solar tracker, a 2017 Intersolar AWARD finalist, will be on display at both the Shoals (#L9007) and Array Technologies (#9811) exhibition booths. Array CFO Bob Bellemare will speak about the company's tracker technology at 3:20 p.m. on Tuesday, July 11 and Dr. Mark Preston, VP of Engineering for Array will take the stage at 11:00 a.m. on Tuesday to represent Array as an Intersolar AWARD finalist.
About Array Technologies
Array Technologies, Inc. is the leading solar tracking solutions and services provider for utility-scale projects. Our streamlined tracker design enables efficient installation and high reliability. This combination delivers both the lowest installation cost and the best long-term returns. Through continuous innovation and engineered simplicity, Array's tracker solutions are optimized for construction and a multitude of terrains. The company has unparalleled experience, with more than 28 years in the industry and over 12,000 miles of trackers installed. Array Technologies is headquartered in Albuquerque, NM. For more information, please visit arraytechinc.com.
About Shoals Technologies Group
Shoals Technologies Group is a leading manufacturer of balance of systems solutions. Consistently providing customers with innovative designs and superior quality products has contributed to the company's exponential growth since its founding in 1996. With over 25 GW of BOS products deployed globally, Shoals maintains a diverse portfolio of solar balance of systems products, including, combiner/re-combiner boxes, disconnecting combiner boxes, custom harnessing solutions, junction boxes, wire, in-line fuses, racking and monitoring solutions.
Featured Product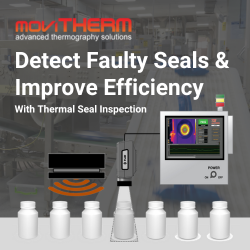 MoviTHERM's Thermal Seal Inspection (TSI) solution provides precise and reliable detection of defects in a variety of packaging types, including pouches, bags, blister packs, bottle caps, and more. By detecting defects in your packages, the TSI solution helps increase efficiency in your production line and ensures top-quality packaging is delivered to your customers every time. With state-of-the-art technology and an experienced team, MoviTHERM is dedicated to delivering accurate inspection solutions and peace of mind to its clients. Contact MoviTHERM today to learn more about their thermal seal inspection solution.