In response to evolving market conditions, Natural Power has launched a new department, 'Advisory and Analytics', which brings together the best of its due diligence, market analysis and resource analysis teams.
Lauren Wheatley, Director of Advisory and Analytics will provide direction to the team globally. International advisory services will be coordinated by Giles Dearden, Director of Due Diligence with local delivery lead by in regional and subject matter experts.
Richard Walls, Chief Operating Director said: "By combining the teams, we will see greater knowledge sharing internally providing a , more integrated and efficient service for our clients. Together we are in a stronger position to build our market intelligence and develop strategies to increase our market presence, both in our existing and new markets."
"From an international perspective, we will be able to support new growth areas by capitalising on the experience of our dynamic and knowledgeable team with the flexibility to work on projects across the globe - delivering our vision to provide market leading services to our clients."
Featured Product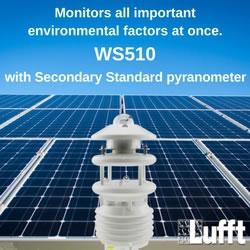 Professional weather sensors form the heart of large solar plants supporting their operation and performance. Lufft was the first manufacturer to combine several sensors in one housing, bringing the largest multiparameter weather sensor family with 19 members into being. Many of them are well-suited for solar site assessment and continuous monitoring. The most commonly used one is the WS600 delivering data on temperature, air pressure, wind, relative humidity and precipitation. Through its open protocol, it can easily be attached to radiation sensors e.g. from Kipp&Zonen. Other models have an integrated Silicon, Second Class or Secondary Standard radiation sensor.