Clenergy sold more than 200MW of solar mounting systems in the Australian market with a year-on-year growth of 150% in the first half of 2017.
By the end of June 2017, Clenergy recorded a year-on-year growth of 150% in the Australian market, selling more than 200MW of solar mounting systems. At around 500MW's, the residential to commercial markets continue to rise and so too does Clenergy's foothold, with a market share exceeding 35%.

The Australia's rising traditional energy prices (coal and gas) coupled with an overall decrease in solar energy systems pricing have led to solar energy gaining wider public acceptance. In addition to the expanding solar energy market, Clenergy benefited from its strong and diverse customer base significant which allow a significant involvement in key growth sectors of residential and small-medium size commercial projects.
Among the wide range of products supplied to the Australian market, the PV-ezRack SolarRoof designed for residential and commercial PV installations on tin and tile roofs remains the leading revenue contributor. Other products that are sold in Australia included the PV-ezRack SolarTerrace II-A (a pre-assembled ground mount system suitable for commercial and utility scale installations), PV-ezRack SolarTerrace III-A (the perfect mounting solution for corrosive environments) and PV-ezRack PostMount series (robust pole mount system with adjustable angle).
Well-equipped with local support resources, stock availability and trusted business relationships, the Clenergy Australia office is respected by the local market as one of the best. With this continuing support, Clenergy are expected to reach in excess of 400MW in sales this year and once again, reinforce Clenergy's position as a leading solar solution provider in the Australian solar market.
Featured Product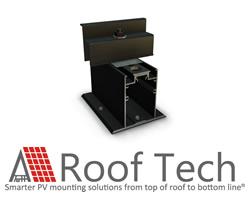 The most compact versatile rail-less PV mounting system under the sun. Instead of placing solar panels on top of long rails, simply attach E Mount AIR to rafters or the roof decking. Once panels are fastened to the roof, the system array is electrically bonded. The result is a visually seamless PV installation that stands the test of time. - Truly "One With The Roof". - PE stamped cert. letters available, UL 2703 Classified, ASTM 2140 fully waterproof. The one and only with integrated flexible flashing certified by the ICC! All the best quality. Only from Roof Tech