The multi-rate monitoring technology allows installers to program up to 255 microinverters according to HEM net meter information, via a 7" 800 x 480 LCD touch screen.
LOS ANGELES, Aug. 15, 2017 /PRNewswire/ -- Chilicon Power (chiliconpower.com) has modified one of its core products to function as both a solar monitoring unit and a home security center, a feature set with no solar OEM precedent. The Cortex Gateway communicates with home and office devices through existing wiring, eliminating the need for costly re-wiring.

The multi-rate monitoring technology allows installers to program up to 255 microinverters according to HEM net meter information, via a 7" 800 x 480 LCD touch screen. A range of privacy and security settings are designed to suit every installer preference. Total data privacy is assured by the stand-alone mode, with no data transferred to the cloud at any time (unless data transfer is selected).
Though fully operational as a stand-alone system, the Gateway offers the option of backing up data by regularly exporting it to the cloud. Securely encrypted cloud interactivity comes via integrated Ethernet and WiFi, no laptop required; a Z-Wave (908 MHz) wireless interface allows installers to monitor consumption via current clamps found in any utility panel. Every configuration can be programmed directly from the touch screen or remote control.
The integration of another Z-Wave certified feature, the Home Security Center, turns the Gateway from a solar monitor into a 'smart home hub.' Features of the Gateway Home Security Center include:
Wireless door and window sensors
Wireless motion sensors
105dB siren
Arm Stay/Away for setting while at home or away
Lightweight, easy to install, affordable and aesthetically pleasing, the security system can be operated entirely from the Gateway interface.
"It's a key feature different from others," says David Sywensky, Director of Sales. "Installers like the convenience of controlling security, consumption monitoring and solar from one device. One remote control is always better than three. People pay 40-50 dollars a month for an alarm system, so having a onetime charge for these sensors is attractive."
The system emits light (from a super-bright LED system) and a choice of 5 audio alerts, allowing users to assign different alerts to different emergencies. Homeowners and office managers can program, schedule and control the device from anywhere in the world over the Z-Wave mesh network.
Explains Chilicon co-founder Alexandre Kral, "The security system is wireless so you don't have to start drawing wires to windows and doors. You can just fix the sensor on the window and the door. That's an advantage for installers who can up-sell that feature and differentiate themselves from their competition."
According to Chilicon co-founder Chris Jones, the LCD display combining solar and home security automation is one of the key attractions for customers: "The touch-screen display shows all solar information, right there on their wall. Customers like to feel they've got a little touch of luxury for all the money that they've just spent."
Meet Chilicon Power at SPI Las Vegas 2017
Please feel free to schedule a meeting by sending an email to info@chiliconpower.com.
ABOUT CHILICON POWER, LLC.
Founded in 2009, Chilicon Power designs and manufactures grid-interactive inverter systems and monitoring solutions in Southern California. http://www.chiliconpower.com
Chilicon Power was founded under the premise of sustainable organic growth from a business standpoint. Their microinverter and Gateway are designed and manufactured in California. Chilicon Power builds the world's highest efficiency 60-cell module inverter.
The company believes that solar energy is a 20+ year trend that is only just beginning. Chilicon's business, like its products, is based on sustainability and commitment to deliver ever higher levels of technology to the renewables industry. Contact (310) 579 2449.
Featured Product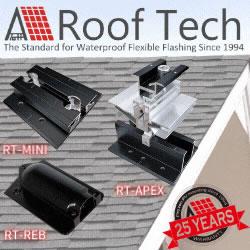 Now Roof Tech brings you the most innovative, watertight mounting systems ever developed for solar photovoltaic systems. Designed and manufactured exclusively for us by Japan's longtime leader in roofing technologies, Roof Tech products are 100% code-compliant and offer fast, simple installation and huge savings on shipping costs due to their compact, rail-less design. Learn more about our full line of versatile PV mounting solutions now available for residential installations. The next generation in rooftop solar mounting solutions."