Current EnSync Energy contracted systems will sell more than $20 million in electricity over the duration of their contracts
EnSync Energy Systems, a leading developer of innovative distributed energy resources (DERs), today announced that the company has reached the milestone of 20 contracted projects in Hawaii. EnSync Energys impact on the Hawaiian electric infrastructure, with projects in operation or that will be in operation in the next 12 months, will account for more than $20 million from renewable energy electricity sales over the term of the various power purchasing agreements. These customer collaborations - including Spectrum (formerly Time Warner), University of the Nations, Easter Seals, and Villages of Kapolei - support key Hawaiian industries such as agriculture, food processing, telecommunications, hospitality, education, real estate and nonprofit.

"The Hawaiian market has been foundational to our success as we introduced new products, services and business models over the last two years," said Brad Hansen, CEO and president of EnSync Energy. "Installing new hybrid energy storage systems, developing and executing our power purchase agreement business model, demonstrating real-time aggregation of multiple DER installations and recently, shipping our first DER SuperModulesTM are all exciting markers of energy progress. Were proud of our efforts in Hawaii and the 20 projects we closed there."
EnSync Energys storage and generation integration expertise provides grid automation by enabling services across the meter and optimizing local businesses with behind-the-meter application controls. EnSync Energy developed, engineered, financed and installed differentiated DER technologies to deliver electricity-generating projects that meet Hawaiis evolving energy demands, synchronize power sources and enhance grid stability via improved visibility and control. Through its partnerships with Hawaiian businesses, EnSync Energy sourced balance-of-systems goods and services with local suppliers and partners.
"Our goal is always to deliver the highest value, most reliable and cost-effective electricity, and weve been able to achieve this through our integrated DER system technologies - supporting our customers from concept through design, project finance and commissioning," said Dan Nordloh, executive vice president at EnSync Energy. "EnSync Energys technologies are leading the way to providing benefit to all electricity stakeholders in Hawaii: for customers seeking to reduce their electricity spend and achieve resiliency, for the utility to leverage distributed energy resources to improve the grid and for the states 100 percent renewable energy plan objectives. Our success in Hawaii is demonstrative of what is possible in creating the electricity grid of the future."
Hawaiian Electric Company, the states energy utility, faces many modern grid challenges. It has the largest proportion of renewable and distributed energy out of any other utility in the country. In 2016, 26 percent of customers electricity demand came from renewable resources, which can present intermittency challenges for the utility to manage. Instability compounded by the high expense of the utilities largest energy supply - imported oil - is encouraging the state to look to modern solutions, such as energy storage and energy management systems to create the 21st-century utility.
"EnSync Energys comprehensive solutions afforded us offerings that were customized to our needs and enabled us to avoid complex and cumbersome processes that we would have experienced with single-product solar developers or battery providers," said Charlie Moore, Manager of Century West AOAO in Honolulu. "EnSync Energy has enabled us to reduce operational expenses, which ultimately positions us to bring down costs for our residents."
EnSync Energys business model and increasing impact in the state aligns with Hawaiis current political objectives. Hawaiian Electric has set renewable targets of 48 percent by 2020 and 100 percent by 2040 - five years ahead of the states mandated goal. Along with acquiring nearly 400 megawatts of renewable generating capacity, the utilitys latest Power Supply Improvement Plan includes adding energy storage and other grid technologies to aid resiliency.
Featured Product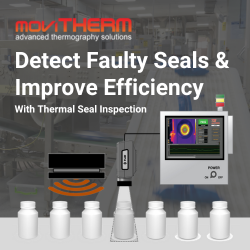 MoviTHERM's Thermal Seal Inspection (TSI) solution provides precise and reliable detection of defects in a variety of packaging types, including pouches, bags, blister packs, bottle caps, and more. By detecting defects in your packages, the TSI solution helps increase efficiency in your production line and ensures top-quality packaging is delivered to your customers every time. With state-of-the-art technology and an experienced team, MoviTHERM is dedicated to delivering accurate inspection solutions and peace of mind to its clients. Contact MoviTHERM today to learn more about their thermal seal inspection solution.