Economic, Climate Benefits Garner Broad Local Support for SB100
CA Leaders Support a 100% Clean Energy California

Economic, Climate Benefits Garner Broad Local Support for SB100
San Francisco, AUG. 29, 2017 - Today Bay Area leaders and clean energy advocates gathered to urge passage of Senate Bill 100 (De León). SB 100 would set the bold but achievable goal of powering California with 100% clean energy by 2045, creating jobs and improving health and wellbeing in communities statewide.
"SB100 will spur more of the innovation and entrepreneurship that makes California a global economic leader with more jobs, lower cost energy and a stable grid," said Danny Kennedy, managing director of the California Clean Energy Fund. "The strategic intent signaled in this legislation will attract a whole new generation of businesses focused on achieving 100% clean energy, just as the California Solar Initiative spawned the modern American solar industry a decade ago."
"Climate change is here. We in Local 1021, our neighbors, and communities are already experiencing the effects of our changing climate in our work and lives," said Alysabeth Alexander, VP of politics for SEIU Local 1021. "The fight for climate justice is a fight for economic justice, and we are here today to show support for SB 100 and a cleaner, healthier, and more just energy system for working people across California."
"SB100 will show the nation that its 100 percent possible to power the worlds sixth largest economy with clean energy at a time when Californias climate leadership is more critical than ever," said Susannah Churchill, California director at Vote Solar. "The Golden State is already far and away our nations solar leader, employing a solar workforce of more than 100,000 people in the growing sector. SB100 will unleash more of that solar opportunity here in the Bay Area and all across the state."
"We support a 100 percent clean energy economy that benefits 100 percent of the people in our community," said Eddie Ahn, executive director of the Brightline Defense Project. "Our mission is to promote sustainability and opportunity in the traditionally underserved communities of San Francisco that have born the health and economic burden of our fossil economy. As currently envisioned, this policy will help bring good jobs and economic empowerment to communities where they are needed most."
"California must find a way to replace the 40 percent of our energy that comes from burning fossil fuels. We already have the tools and strategies we need to bring more wind and solar online: things like better weather forecasting, energy storage, shifting time of use to when renewable resources are abundant, and greater energy efficiency when theyre not. This legislation sets an ambitious and feasible goal and more importantly forces us to figure out how to end our reliance on fossil fuels in a smart, orderly and equitable way," added Laura Wisland, senior energy analyst at the Union of Concerned Scientists.
State law currently requires Californias major utilities to generate 50% of our power from renewable energy sources like wind and solar by 2030, a goal which they are on track to meet. SB100 would increase the renewable energy requirement to 60% by 2030 and establish a goal for the state to satisfy 100% of its electricity needs from carbon-free resources by 2045. The bill has passed the State Senate as well as two key committees in the State Assembly. It will be heard in the Assembly Appropriations Committee tomorrow. Action is needed on the Assembly floor before the legislative session ends for the year on September 15, 2017. Today advocates urged Bay Area Assemblymembers to strongly support SB 100 and help deliver it to Governor Browns desk.
###
Contact: Rosalind Jackson, 415 817-5061 Rosalind@votesolar.org / Susan DeVico 510 339- 1527 SusanDV@aol.com
Featured Product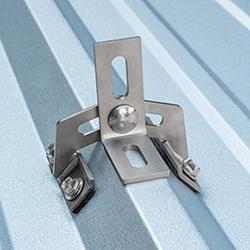 Explore new lines of income for your solar installation business with QuickBOLT's Stone Coated Steel roof mounts designed in partnership with metal roof manufacturers themselves. These SCS roof mounts work on all metal tile profiles and will help you bring in money you're missing out on. By not driving into the roofing material, QuickBOLT's Stone Coated Steel roof hooks maintain the integrity of the roof. Install with ease and confidence knowing your roof is protected against the harsh elements that these hooks are designed for.